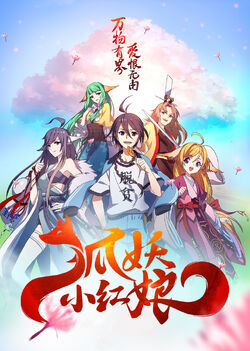 ---
Fox Spirit Matchmaker
Wiki founding
: September 3, 2016‎
Page count
: 250+
"+" can not be assigned to a declared number type with value 250.
Last checked
: 2020
---
Fox Spirit Matchmaker (狐妖小红娘, Huyao Xiao Hongniang) is a Chinese romance manhua written by Tuo Xiaoxin. It was originally published on the magazine Manhua Show until the magazine's cancellation but continued on Tencent Animation and Comics. The English translation of the manhua is published by Tapas Media.
The first 6 seasons of the ONA series was streamed on Bilibili from June 26, 2015 to June 22, 2018. Seasons 7-9 have been aired by Tencent animation since March 1, 2019.
The Japanese dub, titled Enmusubi no Youko-chan (縁結びの妖狐ちゃん), aired a compiled version of the first 4 seasons on Tokyo MX from July 1, 2017 to December 16, 2017.
True love never dies in a world where spirits and humans coexist in blossoming romance. However, human live shorter lives compared to spirit yaoguai. Fortunately, the fox spirit yaoguai have discovered a solution that allows a human to be reincarnated, and—with the services of a Fox Spirit Matchmaker—eventually recall memories of their past life, so that they can reunite with their beloved yaoguai.
Enter Bai Yuechu—a powerful human Daoist who desires freedom from the Yiqidao League—and Tushan Susu—a young fox spirit who dreams of becoming a renowned matchmaker, despite her reputation as a colossal klutz.
After Susu literally falls through the roof and into Bai's life, she and Bai begin their matchmaking adventures, helping reunite separated lovers. Thrown together by fate, Bai Yuechu and Susu discover who they truly are... and who they used to be.
Official LinksEdit
ReferencesEdit