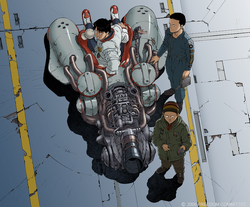 ---
Freedom: The Encyclopedia
Wiki founding
: April 16, 2015
Page count
: 14
Last checked
: July 14, 2017
---
Freedom Project (フリーダム・プロジェクト, furiidamu purojekuto) is a Japanese promotional project by Nissin Cup Noodles for their 35th anniversary in 2006. As part of the project, the 7-part OVA series, titled Freedom, was commissioned with and designed by Katsuhiro Otomo serving as the character and mecha designer. The series is directed by Shuhei Morita, creator of the award-winning animation short Kakurenbo, and is authored by celebrated writer Dai Sato, Katsuhiko Chiba and Yuuichi Nomura. The series openly displays its sponsor's product placement in numerous scenes in which characters are shown consuming Nissin Cup Noodles.
The OVA is animated and produced by Sunrise and distributed by Bandai Visual. It is being distributed in North America by Bandai Visual USA.[1] "Freedom Committee" is the collective term used for the entire creative team behind Freedom, which includes animators and production staff members who have previously worked on Steamboy. Though by no means the first studio to do so, this anime's characters and their animation were produced almost entirely in 3D, with subsequent 2D post-production touch-ups frame by frame, using the 30 fps medium instead of the traditional hand-drawn anime production's 8 fps.[2]
Freedom Project is about a precocious teenager, Takeru, discovering a secret that could change the very society he depends upon. Civilization on the Earth was destroyed by a permanent abnormal climate shift. Cities with millions of people had been built on the far side of the Moon and became the only place where humanity still survived. The remaining population declared the foundation of Republic Eden, then set forth expanding those lunar colonies that loved peace and freedom.
More than 160 years have passed since then. In Eden, children complete their compulsory education program when they are 15 years old. They are then integrated into the society as citizens. During their brief moratorium, they are granted freedom. Like other boys, Takeru decides to take part in a race with his friends Kazuma and Bismarck (the genius mechanic among the trio)[3], using machines particular to the moon, called "Vehicle". But what distinguishes Takeru is that he has constructed his own vehicle. When his vehicle catches fire on a public road he is sentenced to 10 hours of "volunteer" work outside the dome, where he discovers the remains of a small crashed capsule bearing photographs and articles seemingly sent from Earth. Structures visible in the background identify the location they were taken as the Kennedy launch facility in Florida.
Infatuated with a young woman in the photograph, Takeru attempts to research conditions on Earth and finds that the library's information on the home planet is heavily censored. Furthermore, nobody is permitted to travel far enough from the dome over the lunar surface to get within visual range. He discovers a small enclave of people living in a facility outside of Eden's centralized control, and after befriending the enclave's leader Aran, he is given access to a moon rover with sufficient range to get a view of Earth. He sees that the Earth is blue; it has recovered from the disaster that befell it and is now habitable again. The authorities of Eden pursue Takeru, attempting to suppress this discovery, but Takeru and his friend Bismack manage to commandeer an old 'escape' rocket and leave Eden to explore Earth first hand.
The escape rocket's capsule comes down slightly off course, landing in the ruins of Las Vegas, and Takeru and Bismarck use Takeru's vehicle to make the overland trek across the United States.
External Links
Edit
Other Sources
Edit
Other Wikis
Edit
References
Edit
↑

Q&A with Director Morita Shuhei during workshop in Animation Nation 2008, Singapore

↑ Adapted from English Wikipedia with minor edits, inclusion of kanjinames and translations from Japanese Wikipedia.
Community content is available under
CC-BY-SA
unless otherwise noted.