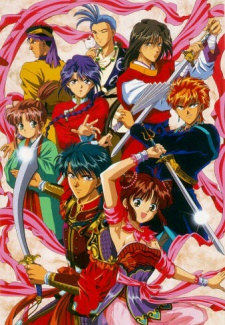 ---
Fushigi Yuugi Wiki
Wiki founding
: July 29, 2008
Page count
: 444
Last checked
: September, 18 2017
---
Fushigi Yûgi: The Mysterious Play (ふしぎ遊戯, Fushigi Yūgi; also known as Curious Play) is a Japanese manga series written and illustrated by Yuu Watase. It was originally serialized in Shōjo Comic from May 1992 through June 1996. Viz Media released the manga series in English in North America starting in 1999.
The series became very popular and was later adapted into a 52 episode anime series by Studio Pierrot. The series originally aired from April 6, 1995 through March 28, 1996 on the anime satellite channel Animax and the regular cable channel TV Tokyo. The anime series was followed by three Original Video Animation releases, with the first having three episodes, the second having six, and the final OVA, Fushigi Yûgi Eikoden, spanning four episodes. A thirteen volume Japanese light novel series also followed Fushigi Yûgi. The novels were published by Shōgakukan from January 30, 1998 to September 26, 2003. On October 25, 2003, Watase began releasing a prequel to the manga series, Fushigi Yûgi Genbu Kaiden.
Fushigi Yuugi, a.k.a. the mysterious play, is a story about a girl named Miaka Yuuki who found her seven celestial warriors to summon her beast god and grant her wishes. Miaka and Yui dropped by the National library and proceeded to the restricted section. And upon seeing a book called "The Universe of the Four gods," they are casted into another world, a world looking like ancient China. But the nation was long waiting for more than centuries for a priestess to save their country. When Miaka met the first celestial warrior Tamahome and the charming emperor Hotohori, Miaka agrees to summon Suzaku, the beast god, and grant her wishes. But meanwhile, Miaka's friend, Yui, was transported back to the real world, and as seen, reading the book. And now it's up to Miaka to win back her best friend, Yui, and summon Suzaku.
Prequel Series: Fushigi Yûgi Genbu Kaiden
Edit
It's 1923 in Japan, a seventeen-year-old girl named Takiko Okuda is living with her sick mother after recently moving to a small village. Her father, which rarely comes home, visits one day, much to Takiko's surprise. He was recently been working on something called "The Universe of the FourG" and even after returning home, is completely obsessed with the book. Her mother soon passes away and Takiko becomes angry at her father for ignoring and giving them almost no attention. These feelings, paired with her feelings of loneliness and uselessness at being rejected both in love and by her father, leads her to tear the book apart. However, it instead whisks her away to the country of Hokkan where all of her adventures and risks begin. This story tells more about The Universe of the Four Gods and the story of the priestess of Genbu.
Light Novels
Edit
Over a series of five years, Megumi Nishizaki wrote thirteen Japanese light novels based on Fushigi Yûgi. With illustrations by Yuu Watase, Fushigi Yûgi Gaiden primarily explores the lives the various Celestial Warriors before they are seen in the manga. The only two novels to be set after the manga, Eikō Den (Jōkan) and Eikō Den (Gekan), later became the basis for the third Fushigi Yûgi original video animation, Fushigi Yûgi Eikoden. Originally published by Shogakukan, none of the novels have been licensed for English release.
External Links
Edit
Other Sources
Edit
Other Wikis
Edit
References
Edit
Community content is available under
CC-BY-SA
unless otherwise noted.