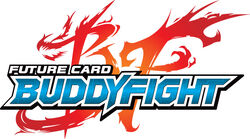 ---
Future Card Buddyfight Wiki
Wiki founding: September 6, 2013
Page count: 14911
Last checked: February 19, 2020

---
Fanon Wiki: Future Card Buddyfight Fanon Wiki
---
Future Card Buddyfight (フューチャーカード バディファイト, Fyūchā Kādo Badifaito) is a Japanese collectible card game created by Bushiroad. The first products began releasing simultaneously worldwide from January 24, 2014. An anime television series adaptation by OLM, Inc. began airing from January 4, 2014. An English version produced by Bushiroad and Ocean Productions is airing in Singapore and being streamed worldwide via YouTube. A manga adaptation began serialization in Shogakukan's CoroCoro Comic in November 2013.
The first season ended on April 4, 2015 where the anime continued for several seasons. The second season entitled Future Card Buddyfight Hundred, aired from April 11, 2015, to March 26, 2016. The third season entitled Future Card Buddyfight Triple D aired from April 1, 2016 to March 24, 2017. The fourth season entitled Future Card Buddyfight X aired from April 1, 2017 to March 30, 2018. The fifth season entitled Future Card Buddyfight X: All-Star Fight aired on April 7, 2018.
Future Card Buddyfight takes place in a more futuristic version of today. The card game connects to a parallel universe through special cards (Buddy Rare Cards) that act as portals. They bring monsters to Earth in order for them to become buddies with humans. Through friendship and courage, they take on and fight challenges, known as Buddyfights, where people of all ages have friendly non-hurtful competitions. But there are those who choose to use the power of Buddy Monsters for evil, but the "Buddy Police" puts a stop to these criminals. The main character, Gao Mikado has just started Buddyfighting. As the story progresses, Buddyfights are seeming to become a little too real...
Gao Mikado is a student at Aibo Academy until one day, he drew from a pack in class containing Drum Bunker Dragon (whom he nicknamed 'Drum'), son of the hero of the Dragon World. Gao's adventures begins as he befriends new rivals, participate in tournaments, and illuminating the darkness that can spell disaster to the world and the fulfilling joy of buddyfightng itself.
Season 2: HundredEdit
A hundred illegal monsters appear on Earth, with one of them named Tenbu searching for the strongest Buddyfighter and warn everyone of an upcoming threat but his memories stolen. The latter leads to Gao Mikado, who volunteers to fill in for Tasuku's absence. Shortly after that a "mysterious" fighter called "Death Shido" starts hunting Tenbu using the Hundred Demons. To combat this threat, the Buddy Police forms the Youth divison and recruits Gao, Tetsuya, Zanya and Tasuku who returns from training.
Tenbu reveals the upcoming threat, a very dangerous monster named Yamigedo, who devours Tenbu. To reseal Yamigedo, the eight Omni Lords must be found, and Drum becoming one of them after Tenbu's death.
Season 3: Triple DEdit
Gao enters the 6th grade and gains a new partner hatched from a mysterious egg, "Dragon of the Sun, Bal Dragon". Together they aim to earn the coveted title as the strongest fighter in the world, and challenge other fighters in the "World Buddy Cup".
Meanwhile, evil-doers are aiming to acquire Bal's special abilities. Previous nemesis, Kyoya Gaen, and his buddy monster "Demonic Demise Dragon, Azi Dahaka" are up to no good. What could they possibly be aiming for by seeking the "Ultimate Dragon Power"?
Season 4: XEdit
The ten parallel realms (Worlds) have finally decided to settle who is World's Number One in the "World Buddy Masters tournament". With each world sending its representative and a legendary Mirage Card that is bestowed to the winner, Gao Mikado has been chosen to represent Dragon World and eventually finds his new buddy. The "Demon Lord Dragon, Batzz", a forbidden tyrannical monster that once devastated the continent of Dragon World who heeds to no one. Yet, Gao believes he can become Buddies with even such a monster.
Season 5: All-Star FightEdit
The Gao Genuine Gameface Tournament, otherwise known as the GGG Cup, is underway after a full action after the defeat of Wisdom and his ambitions. Famous fighters and monsters from across the worlds are invited to participate in the many events and, for the special ones, compete in the matches of the tournament.
External Links
Edit
Other Sources
Edit
Other Wikis
Edit
References
Edit
Community content is available under
CC-BY-SA
unless otherwise noted.