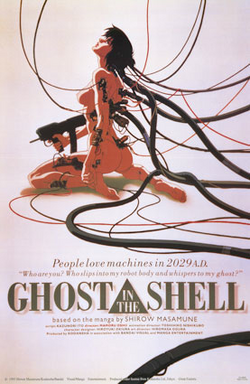 ---
Ghost in the Shell Wiki
Wiki founding
: 2006/09/25
Page count
: 544
Last checked
: 2021/05/05
---
Genre:

Tags:

Media:

Anime, Manga, Light Novel, OVA, Film, Live Action, Game, Guide Book
Ghost in the Shell (攻殻機動隊, Kōkaku Kidōtai, lit. "Mobile Armored Riot Police") is a Japanese multimedia franchise composed of manga, animated films, anime series', video games and novels. It focuses on the activities of the counter-terrorist organization Public Security Section 9 in a futuristic, cyberpunk Japan.
The first entry in the franchise was Shirow Masamune's Ghost in the Shell manga, first published in 1989 in Young Magazine. A sequel, Ghost in the Shell 2: Man-Machine Interface, was released in 2002, and a serialized manga, Ghost in the Shell 1.5: Human-Error Processor, which contained material that was planned for but not included in the sequel, was released in 2003.
The manga series has been adapted into two anime films, Ghost in the Shell and Ghost in the Shell 2: Innocence; two anime television series, Ghost in the Shell: Stand Alone Complex and Ghost in the Shell: S.A.C. 2nd GIG; an OVA sequel of the TV series, Ghost in the Shell: S.A.C. Solid State Society; and three video games: one PlayStation game, one PlayStation 2 game, and one PlayStation Portable game. The films and anime were produced by Production I.G.
Plot
[
]
Ghost in the Shell is a futuristic police thriller dealing with the exploits of the cyborg Motoko Kusanagi, a member of a covert operations division of the Japanese National Public Safety Commission known as Section 9. The unit specializes in fighting technology-related crimes. Although supposedly equal to all other members, Kusanagi fills the leadership role in the team, and is usually referred to as "the Major" due to her past rank in the Japanese Self-Defense Forces. She is capable of superhuman feats, and bionically specialized for her job — her body is almost completely mechanized; only her brain and a segment of her spinal cord remain organic.
The setting of Ghost in the Shell is cyberpunk or postcyberpunk, similar to that of William Gibson's Sprawl trilogy. Kusanagi and her colleagues face external threats and also suffer internal conflict over their own natures.
External Links
[
]
Official
[
]
Other Sources
[
]
Other Wikis
[
]
References
[
]