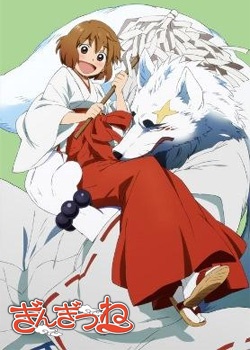 ---
Gingitsune Wikia
Wiki founding
: September 22, 2013
Page count
: 48
Last checked
: June 18, 2017
---
---
Genre:

Fantasy , Slice of Life 

Media:
Gingitsune (ぎんぎつね, Gingitsune; lit. "Silver Fox") is a Supernatural slice of life manga series written and illustrated by Sayori Ochiai.
The manga was first serialized in Shueisha's Ultra Jump magazine in June 2009 and has been compiled into 10 volumes. A sound novel of the manga has been released by Pony Canyon in Japan on 2010 and an Anime adaptation is released by Diomedéa on October 6, 2013.[1][2]
Plot
Makoto Saeki is the daughter of a shrine priest in a small Inari (god) Shinto shrine dedicated to the God Ukanomitama. Since she was 4 years old, her mother died and she inherited an unusual gift called The Sight, allowing her to see the Shrine's Heralds. She met the messenger of the god Inari, an anthropomorphic fox named Gintaro, during the funeral, and he declared her as the fifteenth generation heiress. Gintaro can see a short glimpse into the future and can find lost things despite being rude and unmotivated, but still develops a good friendship with Makoto. As she is the only girl who can see the spirit, both of them decide to be a go-between for the gods and humans as they try to help those who come to the shrine.
External Links
Official
Other Sources
Other Wikis
References
↑ "Gingitsune Shinto Manga Gets TV Anime". Anime News Network. http://www.animenewsnetwork.com/news/2013-04-18/gingitsune-shinto-manga-gets-tv-anime. Retrieved 2013-04-18. 
↑ "Gingitsune Shinto Anime's 1st Promo Video Outlines Story". Anime News Network. August 20, 2013. http://www.animenewsnetwork.com/news/2013-08-20/gingitsune-shinto-anime-1st-promo-video-outlines-story. Retrieved June 27, 2014.