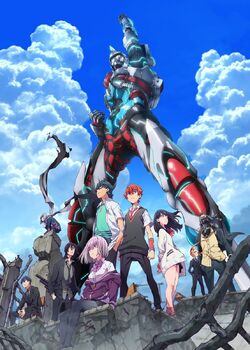 ---
Ultraman Wiki
Wiki founding: November 17, 2009
Page count: 4,423
Last checked: October 30, 2017

---
Fanon Wiki: Ultra Fan Wiki
---
Gridman the Hyper Agent is a 1993 to 1994 Tokusatsu television series created by Tsuburaya Production. Over a decade after the live action series, Akira Amemiya of Trigger created the Denkou Choujin Gridman: boys invent great hero short original net animation for the 2015 Japan Animator Expo.
In 2018, Amemiya and Trigger announced a full length television series titled SSSS.GRIDMAN [1]. The series premiered with an Episode 1 preview screening at Anime Expo 2018 (Los Angeles) on July 6, 2018.[2] and began airing proper on October 7, 2018. A sequel has been announced for 2020 titled SSSS.DYNAZENON, promoted as being part of the "Gridman Universe".
Plot
Note
Gridman shares the same wikia as Ultraman
External Links
Official
Other Sources
Other Wikis
References
↑ "完全新作TVアニメーション『SSSS.GRIDMAN』製作決定!". m-78.jp. 2017-12-02. https://m-78.jp/news/post-4657/. Retrieved 2017-12-08. 
↑ "SSSS.GRIDMAN Info and Images From Pony Canyon and Tsuburaya Pro". Sci Fi Japan. 14-Jul-2018. http://www.scifijapan.com/articles/2018/07/14/ssss-gridman-info-and-images-from-pony-canyon-and-tsuburaya-pro/. Retrieved 17-Sep-2018.