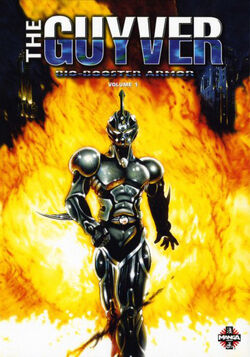 ---
Guyver Wiki
Wiki founding
: 2009/06/02
Page count
: 157
Last checked
: 2017/07/27
---
---
Demographic:

Genre:

Tags:

Media:
Bio-Booster Armor Guyver (Viz Media) or Guyver (Chuang Yi Publishing) (強殖装甲ガイバー Kyōshoku Sōkō Gaibā) is a manga series written by Yoshiki Takaya.
The manga was originally serialized in Tokuma Shoten's Shōnen Captain magazine beginning in 1985. When Shōnen Captain was discontinued in 1997, the manga was picked up by Kadokawa Shoten who subsequently re-released all of the previous graphic novels originally published by Tokuma. The manga is currently serialized in Kadokawa's Monthly Shōnen Ace magazine. It has been licensed by Viz Media, Star Comics and Chuang Yi Publishing.
Guyver has been adapted into a single OVA titled Guyver: Out of Control (1986, based loosely on the first four chapters), a 12-episode anime series (1989 to 1992, based roughly on the first four volumes), two live-action movies (1991's The Guyver and 1994's Guyver 2: Dark Hero) as well as a 2005 26-episode anime series based on the first 59 chapters (volumes 1-10).
Plot
[
]
A test type Zoanoid escapes from the Cronos Corporation with three Guyver Units. Cronos soldiers attempt to recover the units from the test type, but are thwarted when the test type detonates a bomb that he has concealed in his bag. The Guyver Units are scattered in the blast. One of the lost Guyver Units, known as "Unit I", lands near two young high school students, Shō Fukamachi and Tetsurō Segawa. The second one is retrieved by Cronos and merges with Oswald A. Lisker to become the second Guyver later on. The final unit falls into the hands of Agito Makishima, who merges with it at an unspecified time. Shō accidentally activates the unit which then painfully merges with him.
Over time, Shō learns more about the Guyver and its abilities. The Guyver is virtually invulnerable with its only weak point being the Control Metal. With this part intact, it can rebuild the host from the data stored within. If this part is critically damaged, however, the host will be eaten alive by the unit and perish. This is disconcerting and Shō starts to question whether he will ever be free from the Guyver. The situation gradually gets worse with continuously more powerful Zoanoids appearing. This makes it increasingly difficult to protect his friends, who are not immortal.
As the story progresses it also takes a startling turn, in which the antagonist organization, Cronos, actually succeeds in taking over the world and reshaping it according to its ideals. The Guyvers are then labeled to the public as a "vanguard of alien invaders".
External Links
[
]
Official
[
]
Other Sources
[
]
Other Wikis
[
]
References
[
]