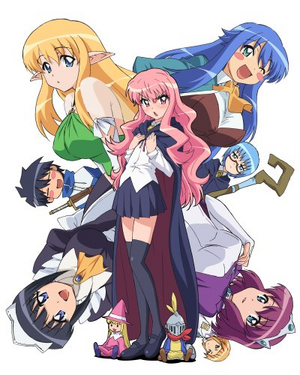 Another World[1] (異世界, Isekai) is a theme present in Japanese anime, manga and other media. It usually has to do with the main character being transported to another world, hence the name. Other worlds regard to parallel fictional universes or virtual worlds, unbeknownst to the protagonist of others around him/her.
The theme can be characterized as wish fulfilment, with the person being transported often being a NEET, hikikomori, gamer, or just a regular human. In the new fantasy world, they are able to succeed through their comparatively unimportant-in-real-life genre knowledge or other skills. In some cases like Isekai wa Smartphone to Tomo ni, their power can range from tremendous magical abilities surpassing anyone else, to relatively weak, as in Re:Zero − Starting Life in Another World, where the protagonist does not gain any special power beyond the ability to survive death in a type of temporal loop.
In general, the "isekai" protagonist is usually regarded as the "chosen hero". But some titles subvert the theme such as Drifters, where people entering the other world are historical generals and other warriors who are more brutal than the world's inhabitants themselves. Titles like Tensei shitara Slime Datta Ken, the protagonist starts off as non-human as a weak blob. Some stories involve people being reincarnated as unusual inanimate objects, like a magical onsen.
In earlier times, the genre started with titles like El-Hazard and Fushigi Yūgi, in which the protagonists retained their original appearance upon entering a different world. Later titles such as Yōjo Senki inverse the genre where the protagonist dies and reincarnates in a different world, such as Knight's & Magic, with the latter retaining their memories and interests from their previous life.
The .hack franchise was one of the first to present Virtual Reality as a parallel concept of isekai, with Sword Art Online following in its footsteps.
[1] http://blog.originto.com/ciekawe-mangi-z-gatunku-isekai/ - Interesting mangas from isekai genre (PL - Polish)
Community content is available under
CC-BY-SA
unless otherwise noted.