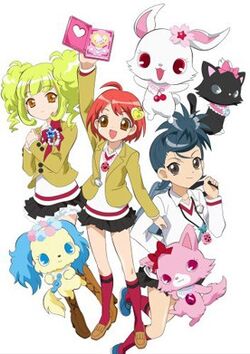 ---
Jewel Pet Wiki
Wiki founding
: July 22, 2011
Page count
: 417
Last checked
: May 30, 2017
---
Jewelpet (ジュエルペット, Juerupetto) is a Japanese media and toyline franchise created as a joint venture between Sanrio and Sega Toys. The franchise was originally launched on January 15, 2008, focusing on animals named after jewels, birthstones and minerals, who can use magic using their eyes.
Due to its success, Sanrio and Sega Toys expanded the Jewelpet franchise overseas. The franchise is currently being licensed by Italian company Giochi Preziosi for its European release.
In an antique shop, there was a magical Jewel Box which sat there for centuries and shined in very bright colors. A girl accidentally encountered the box and opened it, causing a strange light to shine and the girl was sucked inside. She was now in a strange new world that shined like jewels with sign that reads 'Jewel Land'. The girl was amazed by the sightful and brightly colourful decoration of everything, with all kinds of jewels. At the town's center, there was a strange jewel-decorated tower, and the girl went inside out of curiosity
She was greeted by a princess who was happy to see the girl and offered her a jewel apple. The girl accepted the gift and the jewel in the girl's hand glowed, magically transforming into a cute animal. The princess said the creature was called a Jewelpet, and each of them live in Jewel Land. However, she also told her the crisis that Jewel Land was facing as the magic was starting to vanish. She told the girl that she must raise that Jewelpet she had into a full-fledged magician.
Each Jewelpet differs from their magical Jewel Eyes and depends on the human partner who awakens them and use magic whenever they need to. They all study magic along with their partners in a special school in Jewel Land for them to become master magicians. The pets and their partners must endure a lot of hardships and even trouble. With each care the human partners give to their Jewelpets, the pets love them back.
For a Jewelpet to become a magician, it must go through rigorous training and studying with their human partners to prevent the crisis in Jewel Land. If the Jewelpet becomes a magician, they'll be rewarded with a magical Jewel Cloak, as a symbol of mastery over its magic.
Series Info
Edit
| Title | Media | Original Run |
| --- | --- | --- |
| Jewelpet | Anime | April 5, 2009 – March 28, 2010 |
| Jewelpet Twinkle☆ | Anime | April 2, 2010 – July 21, 2013 |
| Jewelpet Twinkle☆: A Rainbow of Smiles Doki☆Doki! | OVA | July 22, 2013 |
| Jewelpet Sunshine | Anime | April 9, 2011 – March 31, 2012 |
| Jewelpet Kira☆Deco | Anime | April 7, 2012 – March 30, 2013 |
| Jewelpet Happiness | Anime | April 6, 2013 – March 29, 2014 |
| Lady Jewelpet | Anime | April 5, 2014 – March 28, 2015 |
| Jewelpet: Magical Change | Anime | April 4, 2015 – December 26, 2015 |
| Jewelpet the Movie: Sweets Dance Princess | Film | August 11, 2012 |
External Links
Edit
Other Sources
Edit
Other Wikis
Edit
References
Edit
Community content is available under
CC-BY-SA
unless otherwise noted.