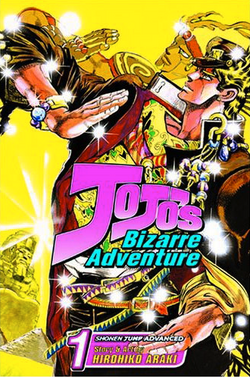 ---
JoJo's Bizarre Encyclopedia
Wiki founding
: January 9, 2008
Page count
: 2,409
Last checked
: 18th December, 2020
---
JoJo's Bizarre Adventure (ジョジョの奇妙な冒険, JoJo no Kimyō na Bōken) is a manga written and illustrated by Hirohiko Araki. Every main character's name in each part can be read as JoJo. The manga, published by Shueisha, first ran in the magazine Weekly Shōnen Jump from 1987 to 2002, before being transferred to the seinen magazine Ultra Jump in 2004. The current story arc, JoJolion, started in 2011. It is currently Weekly Shōnen Jump's second longest running manga with 104 volumes and counting. It was previously the longest manga not to have a TV adaptation.
The third story arc of the manga, the most popular and well-known, was published in English by Viz Media from 2005 to 2010. Originally published bimonthly, it was later reduced to a quarterly release.
The September 1, 2011 issue of the magazine Weekly Bunshun reported that a live-action film and multiple animated films based on the series are currently in development from different studios. Stating that a "super-popular idol" will star in the live-action film and that formal release dates for the projects aren't expected until summer 2012, at the earliest. However, JoJo's publisher Shueshia downplayed the report, saying "We don't know where that story came from, but nothing has been decided at this time."
The story of JoJo's Bizarre Adventure centers around the misadventures of the Joestars and their allies, a powerful family with English roots; most of its members attract the most particular trials and tribulations when confronting their enemies. Each member of the bloodline has a star shaped birthmark above their left shoulder blade – Dio, the nemesis of the Joestar family and his descendants have this distinguishable mark also, as a result from Dio's 'theft' of Jonathan Joestar's body and inheriting the Joestar genes as well. The series spans several generations, with each part featuring a descendent of the Joestars as the main protagonist along with a large cast of characters.
Despite the series' title, no character is named "JoJo": it is a nickname derived by putting together the letters "J" and "O" from the protagonists' first and last names. Later installments have additional variations on JoJo wordplay. For example, in the name "Giorno", "Gio" can be pronounced "Jo"; and in the name "Josuke," the character representing "suke" can also be read as "Jo".
Season 1 (Phantom Blood and Battle Tendency) Official Site (Japanese)
Season 2 (Stardust Crusaders) Official Site (Japanese)
Season 3 (Diamond Is Unbreakable) Official Site (Japanese)
Season 4 (Golden Wind) Official Site (Japanese)
Community content is available under
CC-BY-SA
unless otherwise noted.