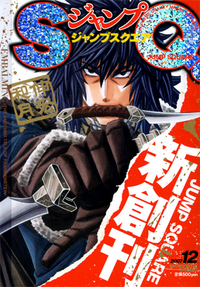 Jump Square (ジャンプスクエア, Janpu Sukuea, written as Jump SQ but pronounced "Jump Square") is a Japanese monthly shōnen manga magazine with a circulation of over 300,000. Published by Shueisha, the magazine premiered on November 2, 2007 as a replacement for Monthly Shōnen Jump, another manga anthology that Shueisha discontinued in June of that year. The magazine is a part of the Jump line of magazines. The manga titles serialized in the magazine are also published in tankōbon volumes under the Jump Comics label. The manga series within the magazine target young male readers and tend to be set in a fantasy setting with a large amount of action scenes. Like all monthly shonen manga magazines, Monthly Jump Square is aimed at late teens and people in their early 20s from ages 16 to 21.
Series currently running in Jump Square
Edit
There are currently twenty-five manga titles being regularly serialized in Jump Square. Embalming -The Another Tale of Frankenstein- is currently in hiatus.