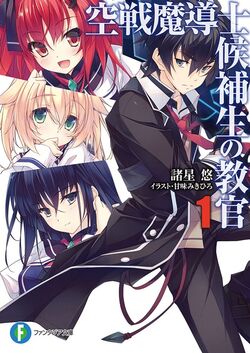 ---
Kūsen Madōshi Kōhosei no Kyōkan
Wiki founding
: September 27, 2015
Page count
: 89
Last checked
: July 7, 2017
---
Sky Wizards Academy (空戦魔導士候補生の教官, Kūsen Madōshi Kōhosei no Kyōkan, lit. "The Instructor of the Aerial Combat Wizard Trainees") is a light novel series written by Yū Moroboshi and illustrated by Yuka Nakajima. Fujimi Shobo has published twelve volumes since July 2013 under their Fujimi Fantasia Bunko imprint. A manga adaptation with art by Arisu Shidō started serialization in Media Factory's seinen manga magazine Monthly Comic Alive from July 26, 2014. A 12-episode anime television series adaptation by Diomedéa aired between July 8, 2015 and September 23, 2015.
The story is set in a world where humanity, driven off the land by the threat of magical armored insects, now live in aerial floating cities. Thus wizards—aerial combat mages who fight the insects with magical powers—came into being.
Kanata Age is a young man who lives on the floating wizard academy city of "Mistgun". He was once celebrated as the "Black Master Swordsman," the elite ace of the S128 special team; however, he is now despised as the "traitor of the special team." One day, he is assigned as the instructor of E601, a team that has suffered ten consecutive defeats. E601 has three girls—Misora Whitale, Lecty Eisenach, and Rico Flamel—with one or two peculiar quirks.
External Links
Edit
Other Sources
Edit
Other Wikis
Edit