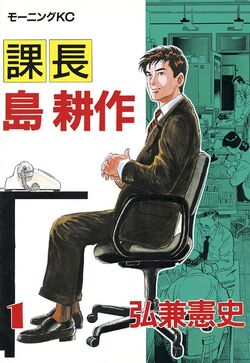 ---
---
Genre:

Drama , Slice of Life 

Media:
Kachō Kōsaku Shima (課長島耕作) is the first in a number of Japanese manga series', by Kenshi Hirokane. The series ran from 1983–1992 under this title, winning the 1991 Kodansha Manga Award in the General category. As of 2013, the series has sold over 40 million copies in Japan.
Plot
[
]
Kosaku Shima depicts the life of Kosaku Shima, a salaryman, a Japanese white-collar worker who devotes his life to his company.
At the start of the long-running series, Shima Kosaku is a kachou, or section chief, of a huge conglomerate, Hatsushiba Electric. He is later promoted to buchou (division chief) and eventually promoted to manager and executive-director, and with each promotion the title of the series changed as well. He is now promoted to the president of Hatsushiba Electric.
The fictional conglomerate is modeled after Panasonic, or Matsushita Electric, where Hirokane worked before and is highly accurate in its portrayal of Japanese corporate culture.
External Links
[
]
Official
[
]
Other Sources
[
]
Other Wikis
[
]
References
[
]