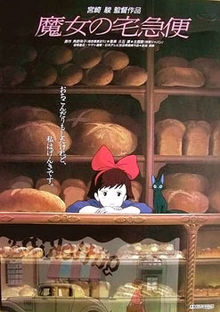 ---
Ghibli Wiki
Wiki founding
: June 29, 2011
Page count
: 1205
Last checked
: March 28, 2020
---
Kiki's Delivery Service (魔女の宅急便, Majo no Takkyūbin; translated "Witch's Delivery Service") is a 1989 Japanese animated fantasy film produced, written, and directed by Hayao Miyazaki. It was the fourth theatrically released Studio Ghibli film.
The film won the Animage Anime Grand Prix prize in 1989.[1] Kiki's Delivery Service is loosely based on Eiko Kadono's novel of the same name, which is the first in a series published by Fukuinkan Shoten in 1985.
According to Miyazaki the movie touches on the gulf that exists between independence and reliance in Japanese teenage girls.[2] Going far beyond coming of age themes, the work deals with the nature of creativity and talent, and the central difficulty every person faces in becoming themselves, whether through luck, hard work or confidence: the inner film explores the same questions as the later Whisper of the Heart.
It was the first Studio Ghibli movie released under the Disney/Studio Ghibli partnership; Disney recorded an English dub in 1997, which premiered theatrically in the United States at the Seattle International Film Festival[3] May 23, 1998. It was released on home video in the U.S. on September 1, 1998.[4]
Kiki is a 13-year-old witch-in-training, living in a village where her mother is the resident herbalist. It is traditional for witches to live for a year alone when they reach 13 years of age. In the opening of the story, Kiki takes off for the big city with her best friend Jiji, a loquacious black cat.
Kiki settles in Koriko, a port city. After a hard start, mostly because of her own insecurity, Kiki finds friends and a place to stay. But she has only one witch's skill: her ability to fly on a broom, at which she is still not fully proficient. So, in order to support herself, she begins a delivery service.
Kiki experiences setbacks, and she must contend with adolescent worries. She is pursued by Tombo, a local boy crazy about aviation who has developed a genuine respect for her flying power and a strong liking for Kiki as a girl in general. Kiki eventually warms up to him, but after an unpleasant encounter with Tombo's friends, some of whom she had met earlier under unfavorable circumstances, Kiki's powers to fly and speak with Jiji suddenly diminish and ultimately disappear, leaving her devastated. However, one of her friends, a young painter named Ursula, invites her to stay in her forest cottage, where she analyzes Kiki's current crisis as "some form of artist's block." Since many things had not gone as hoped for, Kiki is experiencing such a period, which resulted in the loss of her powers; but if she finds a new purpose, she will be able to reclaim what she has lost.
Heartened, Kiki returns to the city. While visiting one of her customers, she witnesses an accident on the television. A strong and sudden gust of wind blows in the area. Tombo is lifted into the air and blown away hanging from a dirigible. In her desperation to save him, Kiki pushes herself to regain her flying ability. Improvising with a street-sweeper's push broom, Kiki reactivates her power and rescue Tombo.
During the credits, Kiki is now comfortably part of the life in Koriko as its own local celebrity and flying in formation with Tombo on his human-powered aircraft, a propeller-rigged bicycle. Kiki sends a letter to her parents about gaining confidence through difficulties and that she has decided to make this city her new home.
External Links
Edit
Other Sources
Edit
Other Wikis
Edit
References
Edit
Community content is available under
CC-BY-SA
unless otherwise noted.