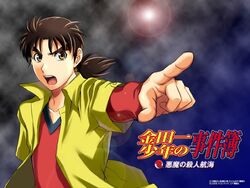 ---
The Kindaichi Case Files
Wiki founding
: September 15, 2011
Page count
: 491
Last checked
: June 23, 2017
---
Kindaichi Case Files (金田一少年の事件簿, Kindaichi Shōnen no Jikenbo) is a Japanese mystery manga series based on the crime solving adventures of a high school student, Hajime Kindaichi, the supposed grandson of the famous (fictional) private detective Kosuke Kindaichi.[1][2] They are written by Yōzaburō Kanari or Seimaru Amagi (depending on series) and illustrated by Fumiya Satō.[3] The Kindaichi series, which started serialization in Weekly Shōnen Magazine in 1992,[3] is one of the earliest works in the mystery manga genre. In 1995, the manga won the Kodansha Manga Award for shōnen.[4]
The serialization of the new Kindaichi series started in 2004,[5][6] but not on a regular basis until 2012. The manga resumed regular serialization in 2012 to commemorate the 20th anniversary. The regular weekly serialization continues in 2013 with the title changed to Kindaichi Case Files R (Returns) (金田一少年の事件簿R, Kindaichi Shōnen no Jikenbo Ritānzu). Kindaichi tankōbon were ranked 2nd and 3rd in a Japanese Comic Ranking in October, 2009.[7]
Kindaichi has also been animated by Toei Animation, first as a feature film, with Kappei Yamaguchi as the voice of Kindaichi, released in 1996 and then a television series, with Taiki Matsuno voicing Kindaichi in this and subsequent productions for 148 episodes from 1997 to 2000,[2][8] and there has since been a live-action film,[9] three live-action drama series, three live-action television specials and further animated features for cinema and television.[8] A new anime television series adaptation, titled Kindaichi Case Files R (Returns), began airing on April 5, 2014. The voice actors of the main characters from the first anime television series reprise their roles.[10]
The collected stories are published in English by Tokyopop with the title The Kindaichi Case Files.[11] Only the first 17 volumes (the first series) have been licensed by Tokyopop; the rest are unlikely to see print in the United States unless their relatively poor sales improve.[12]
Kindaichi mysteries are whodunnit stories featuring (usually multiple) gruesome murders, often with a supernatural tinge. They are typically of the style of John Dickson Carr, and frequently feature a locked room mystery[2] or other seemingly "impossible" crimes, such as a murder occurring when all surviving suspects have (apparently) airtight alibis.
A notable distinction of The Kindaichi Case Files is that the killers are not depicted as psychopathic murderers and the murders are never committed for financial reasons alone. The identified killers all have deep rooted problems, often involving great emotional trauma through the greed or thoughtlessness of others, as their reasons for committing the murder(s). Thus the killers are often portrayed as sympathetic figures, as opposed to cold, calculating killers in some other mystery series.
In addition of this, after being revealed the criminal usually attempts to commit suicide.[13]
External Links
Edit
Other Sources
Edit
Other Wikis
Edit
References
Edit
Community content is available under
CC-BY-SA
unless otherwise noted.