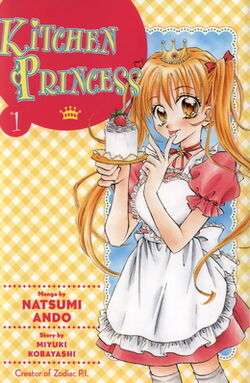 ---
Kitchen Princess Wiki
Wiki founding
: June 22, 2011‎
Page count
: 68
Last checked
: July 14, 2017
---
Kitchen Princess (キッチンのお姫さま, Kicchin no Ohime-sama) is a shōjo manga series written by Miyuki Kobayashi and illustrated by Natsumi Andō. Appearing as a serial in the manga magazine Nakayoshi from the September 2004 issue to the October 2008 issue, the forty-seven chapters were compiled into ten bound volumes by Kodansha, and published from February 2005 to November 2008. In March 2008, Kodansha published a related light novel, Kitchen Princess: Search for the Angel Cake, written by Kobayashi and illustrated by Ando.
Set in modern-day Japan, the plot centers on Najika Kazami, a cheerful thirteen-year-old with an excellent sense of taste who hopes to become a chef. In her backstory, it is revealed that a mysterious boy rescued her from drowning in Hokkaidō as a young, recently orphaned girl and gave her flan to cheer her up. Before he left, she promised to make him the best-tasting dessert in the world. Now on a journey to find her "flan prince," as she calls him, Najika attends Seika Academy in Tokyo, after she learned that the silver spoon her flan prince left her is unique to the school. There she befriends Sora Kitazawa, the substitute director of the academy, and his younger brother Daichi Kitazawa. Although teen model Akane Kishida initially dislikes her, they eventually become friends after Najika heals her eating disorder by making her her grandmother's recipe. Najika periodically competes in cooking competitions, both formal and informal, while working at the diner run by the skilled, yet lazy chef Fujita.
Najika falls in love with Sora, after he tells her that he is her flan prince. However, he soon dies after being struck by a truck while on a journey to deliver some ingredients to Najika, and, in his final moments, admits that he lied about being her flan prince, having fallen in love with her. She loses her sense of taste out of sorrow, although she quickly recovers it. After Sora's death, Daichi is unable to bring himself to act on his love for her, though he gives in to his father's demands to protect Najika from being kicked out of the school and becomes the student body president to replace Sora. Wealthy and conceited junior pastry chef Seiya Mizuno also begins to attend the school, where he clashes with Najika, whom he had watched bake as a young girl at the orphanage. Seiya eventually falls in love with her, and tries to romantically pursue her, although he gives up when he realizes that she loves Daichi. After Daichi recovers a repressed memory of his mother's death during a family trip to Hokkaidō—which Sora attempted to protect him from by lying about being Najika's flan prince—he remembers that he is actually her flan prince, having given her a flan made by Seiya, and accepts her feelings for him. Joyful, she fulfills her promise to him by making him a crème brûlée.
External Links
Edit
Other Sources
Edit
Other Wikis
Edit
References
Edit
Community content is available under
CC-BY-SA
unless otherwise noted.