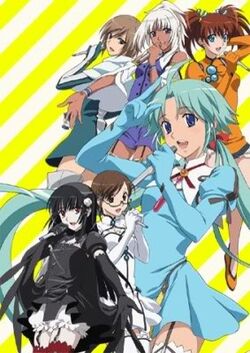 ---
レモンエンジェル Wiki
Wiki founding
:
Error: Invalid time.
"Error: Invalid time." contains an extrinsic dash or other characters that are invalid for a date interpretation.
Page count
: 45
Last checked
: 2017/12/01
---
---
Lemon Angel (レモン エンジェル, Remon Enjeru) is a Japanese anime franchise produced by AIC and aired on Fuji TV. Originally a spin-off from the Cream Lemon (くりいむレモン) hentai OVA series, the franchise is focused on the actual 80's J-pop group "Lemon Angel" prior to their debut and where they portray animated versions of themselves, eventually releasing merchandise such as manga, novels, games and a documentary drama.
The anime premiered as a midnight 5-minute short series by the following:
The first season aired from October 1 to December 24, 1987 for 37 episodes consisting of animated music clips (AMV) for their songs.
The second aired from February 2 to March 29, 1988 for 9 episodes.
The third aired from July to September 198 for 10 episodes.
A new anime series titled Lemon Angel Project (レモン エンジェル プロジェクト, Remon Enjeru Purojekuto) was produced by Radix Ace Entertainment and is loosely based on the original Showa idol group focusing on the new generation. It premiered across Japan by the UHF Studio Association from January 6 to March 31, 2006.
Plot
[
]
Lemon Angel Project
[
]
In the year 2017 where music is delivered in a technological fashion. Once ago, a pop band named Lemon Angel made it big, but only performed on large flat screens that serve as ad spaces in the city. After a while, the band disappeared with no trace left. Tomo Minaguchi, whose deceased senpai was somehow involved with Lemon Angel, was invited to join an audition aimed to form a new Lemon Angel band, or revive it with new members where she reluctantly agrees.
As the series progresses, Tomo bonds with the other four members of the band (out of the audition), and along the way, each learn the values of trust, friendship, and inner strength, as they do their best to perform for the Lemon Angel Project.
External Links
[
]
Official
[
]
Other Sources
[
]
Other Wikis
[
]
References
[
]