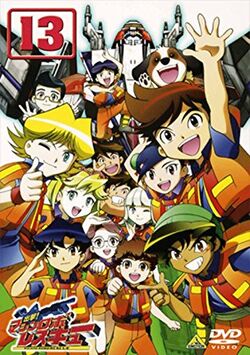 ---
Machine Robo Wiki
Wiki founding
: April 24, 2009
Page count
: 243
Last checked
: January 10, 2018
---
---
Genre:

Media:

Spin-off:
Machine Robo (マシンロボ) is a Japanese toyline of Transformers first released in 1982 by Popy, a division of Bandai, then later by Bandai proper. The franchise was marketed as Robo Machine in Europe, and Machine Men (or Robot Machine Men) in Australia. A large portion of these toys was exported to North America as part of Tonka's Gobots and Rock Lords series, beginning in 1983. The franchise was promoted by several animated series
Machine Robo: Revenge of CronosEdit
The journey of a robot prince begins! The planet Cronos is a world of super-robotic lifeforms, ruled by the wise Master Kirai. But their peaceful existence is shattered by the conquering armies of the Gandora robots. Now it's up to Master Kurai's son, Rom, to lead his company of transformable mecha warriors in an epic battle of machine VS. machine for the planet's fate.
Machine Robo: Battle HackersEdit
A ship crewed by earthlings crashes on Chronos. Believing themselves stranded, the crew volunteers to fight along the Machine Robos.
Leina Stol in Wolf Sword LegendEdit
Continuing from Revenge of Cronos, Rom and Leina had crossed a dimensional barrier, where they and the rest of the other machine comrades have their physical forms changed from robot to human. Leina Stol is now incarnated as Leina Haruka, a Japanese schoolgirl, and separated from her brother with blurred memories.
Lightning Trap - Leina & LaikaEdit
A spin-off from Leina Stol in Wolf Sword Legend. In present-day Tokyo, traveling has never been more comfortable than aboard the Lightning L808, Japan's new luxury passenger plane. One day, on what seemed to be a routine flight, Haruka Leina and the plane's passengers were unaware of the mysterious and top secret cargo brought aboard, which attracted the attention of international terrorists set on obtaining it. Now, with a dangerous hostage situation at hand, only special agent Laika Strange and brave Leina may be able to save the passengers and keep the deadly cargo from falling into the wrong hands...
Machine Robo RescueEdit
In the future, age is not a factor to determine whether someone can perform a certain task or not, but special talent and training. An organization, Machine Robo Rescue (MRR), was established for robots and children to become partner and rescue people from danger. 12 children with various abilities were selected and introduced as part of this program: Robo Rescue! But when a mysterious organization appears using robots to wreak havoc, it's up to Taiyou Oozora and the other chosen children to partner with JETROBO and the other MRR mecha to the rescue!
External Links
Edit
Other Sources
Edit
Other Wikis
Edit
References
Edit
Community content is available under
CC-BY-SA
unless otherwise noted.