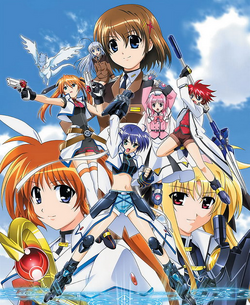 ---
Magical Girl Lyrical Nanoha Wiki
Wiki founding
: April 10, 2009
Page count
: 1,156
Last checked
: January 11, 2018
---
Genre:

Tags:

Media:

Spin-off:
Magical Girl Lyrical Nanoha (魔法少女リリカルなのは, Mahō Shōjo Ririkaru Nanoha) is an anime television series directed by Akiyuki Shinbo, with screenplay written by Masaki Tsuzuki, and produced by Seven Arcs. It forms part of the Magical Girl Lyrical Nanoha series. It was broadcast on UHF for thirteen episodes between October and December 2004. The series is a spin-off of the Triangle Heart series and its story follows a young girl named Nanoha Takamachi who decides to help a young mage named Yūno to recover a set of twenty-one artifacts named the "Jewel Seeds".
Masaki Tsuzuki adapted the series into a novel that was published by Megami Bunko in August 2005. Several soundtracks and drama CDs have been adapted from the series. A sequel to the anime series titled Magical Girl Lyrical Nanoha A's produced by Seven Arcs premiered in Japan on October 2005 broadcast on Chiba TV. A film adaptation of the anime series is in production and is scheduled to be released in 2010.
Geneon Entertainment licensed the anime series for English-language dubbed release in North America at Anime Expo 2007 (June 29 – July 2). Due to Geneon switching distribution labels between September 2007 and July 2008, Funimation Entertainment distributed the series approximately a year and half after the license had been announced in a single DVD compilation-volume boxset. Many production credits for the English-language dubbed release were missing.
Moderately well received by Japanese-language viewers, all DVD volumes peak ranked seventy-twenty-second and below on the Oricon Animation DVD ranking and remained on the chart for at least two weeks. The series received mixed reviews from English-language critics, with some praising and others criticizing the pacing, visual style, and music of the series. G. B. Smith criticized the English-language dubbed release for its inconsistency in direction.
The storyline follows Nanoha Takamachi, a nine-year-old Japanese girl attending elementary school, who lives with her parents and her older siblings. Nanoha's regular everyday life ends when she rescues an injured ferret who reveals himself to be a young shapeshifting mage named Yūno Scrya. An archaeologist from a parallel universe, Yūno came to Earth to collect a set of twenty-one dangerous ancient artifacts named the "Jewel Seeds" (ジュエルシード, Jueru Shīdo) that he first discovered in his own world. Jewel Seeds give living beings who come into contact with them unnatural powers, often turning them into monsters, and Yūno, injured while trying to collect them, must now rely on Nanoha while he convalesces in ferret form. He gives Nanoha an "Intelligent Device" (magical wand) called "Raising Heart" (レイジングハート, Reijingu Hāto), and she unexpectedly shows strong aptitude for magic. As the two gather the Jewel Seeds, Nanoha learns magic from Yūno while continuing with her ordinary everyday life.
In retrieving her sixth Jewel Seed, Nanoha encounters another mage named Fate Testarossa and her familiar Arf. More than a year before the story began, Fate's mother, Precia Testarossa, went insane when her daughter Alicia died, initiating "Project Fate", an illegal research of cloning and resurrection, making her a fugitive from the interdimensional police known as Time-Space Administration Bureau (TSAB). Precia cloned Alicia to create Fate and implanted her with Alicia's memories; nevertheless, she is unable to care for Fate as she did for Alicia and abuses her regularly. Despite this, Fate is extremely loyal to her due to Alicia's happy childhood memories she believes to be her own. In the series, Precia uses Fate to collect Jewel Seeds and reach Al Hazard, where Alicia could be truly brought back to life.
Nanoha and Fate repeatedly face off against each other over each new Jewel Seed they find, and the TSAB soon interferes to prevent the collateral damage caused by their battles. Nanoha eventually manages to overpower Fate and brings her to the TSAB, prompting Precia to abandon her and attempt a dimensional jump to Al Hazard with the power of the few Jewel Seeds that Fate managed to gather thus far. Gathering her resolve, Fate decides to aid the TSAB and Nanoha in their fight to stop Precia. Although they manage to minimize the destructive side effects of using the Jewel Seeds, they are unable to prevent Precia from finishing the spell, and her final whereabouts are unknown. Fate and Nanoha decide to become friends, but Fate must first travel to TSAB homeworld Mid-Childa to prove she was an unwilling accessory in Precia's crimes.
External Links
Edit
Other Sources
Edit
Other Wikis
Edit
References
Edit
Community content is available under
CC-BY-SA
unless otherwise noted.