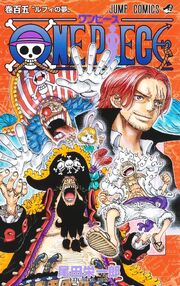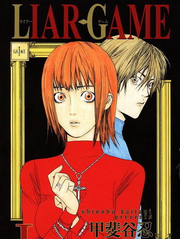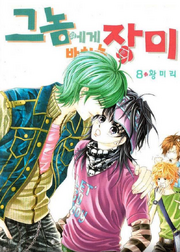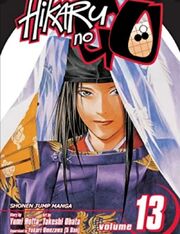 Manga (kanji: 漫画; hiragana: まんが; katakana: マンガ; pronunciation: ˈmɑːŋɡə) consist of comics and print cartoons (sometimes also called komikku, コミック) in the Japanese language and conforming to the style developed in Japan in the late 20th century.
In Japan, people of all ages read manga. The genre includes a broad range of subjects: action-adventure, romance, sports and games, historical drama, comedy, science fiction and fantasy, mystery, horror, sexuality, and business and commerce, among others. Since the 1950s, manga have steadily become a major part of the Japanese publishing industry, representing a 406 billion yen market in Japan in 2007 (approximately $3.6 billion). Manga have also become increasingly popular worldwide. In 2008, the U.S. and Canadian manga market was $175 million. Manga are typically printed in black-and-white, although some full-color manga exist (e.g. Colorful). In Japan, manga are usually serialized in telephone book-size manga magazines, often containing many stories, each presented in a single episode to be continued in the next issue. If the series is successful, collected chapters may be republished in paperback books called tankōbon. A manga artist (mangaka in Japanese) typically works with a few assistants in a small studio and is associated with a creative editor from a commercial publishing company. If a manga series is popular enough, it may be animated after or even during its run, although sometimes manga are drawn centering on previously existing live-action or animated films. Some manga are produced based on light novels where the manga has much more illustration and sometimes differing or independent story lines.
Sometimes manga use an original anime or live-action series as source material and adapt it to the manga format and presentation. Another recent phenomenon is manga being the source material for live-action stage plays or musicals. Also possibly due to saturation of the anime production capacity, many manga have now been adapted as live-action series or films first and then anime later (i.e. The Way of the Househusband was adapted as a live-action series first and then later adapted as a series of ONA shorts; also Police in a Pod was adapted as a live-action series first and then later adapted as an anime series).
Similar forms in other countries
[
]
"Manga" as a term used outside Japan refers specifically to comics originally published in Japan. However, manga-influenced comics, among original works, exist in other parts of the world, particularly in South Korea ("manhwa") or Taiwan and the People's Republic of China, notably Hong Kong ("manhua"). In France, "la nouvelle manga" has developed as a form of bande dessinée (literally drawn strip) drawn in styles influenced by Japanese manga. In the United States, people refer to manga-like comics or graphic novels as Amerimanga, world manga, or original English-language manga (OEL manga).
Publications
[
]
In Japan, manga constituted an annual 406 billion yen (approximately $3.6 billion USD) publication-industry by 2007. Recently, the manga industry has expanded worldwide, where distribution companies license and reprint manga into their native languages.
After a series has run for a while, publishers often collect the stories together and print them in dedicated book-sized volumes, called tankōbon. These are the equivalent of U.S. trade paperbacks or graphic novels. These volumes use higher-quality paper, and are useful to those who want to "catch up" with a series so they can follow it in the magazines or if they find the cost of the weeklies or monthlies to be prohibitive. Recently, "deluxe" versions have also been printed as readers have gotten older and the need for something special grew. Old manga have also been reprinted using somewhat lesser quality paper and sold for 100 yen (about $1 U.S. dollar) each to compete with the used book market.
Marketeers primarily classify manga by the age and gender of the target readership. In particular, books and magazines sold to boys (shōnen) and girls (shōjo) have distinctive cover art and are placed on different shelves in most bookstores. Due to cross-readership, consumer response is not limited by demographics. For example, male readers subscribing to a series intended for girls and so on.
There has been an increase in the amount of publications of original webmanga. It is internationally drawn by enthusiasts of all levels of experience, and is intended for online viewing. It can be ordered in graphic novel form if available in print.
The Kyoto International Manga Museum maintains a very large website listing manga published in Japanese.
Magazines
[
]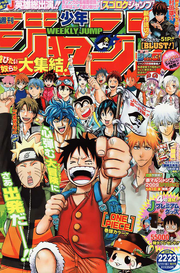 Manga magazines usually have many series running concurrently with approximately 20–40 pages allocated to each series per issue. Other magazines such as the anime fandom magazine Newtype featured single chapters within their monthly periodicals. Other magazines like Nakayoshi feature many stories written by many different artists; these magazines, or "anthology magazines", as they are also known (colloquially "phone books"), are usually printed on low-quality newsprint and can be anywhere from 200 to more than 850 pages thick. Manga magazines also contain one-shot comics and various four-panel yonkoma (equivalent to comic strips). Manga series can run for many years if they are successful. Manga artists sometimes start out with a few "one-shot" manga projects just to try to get their name out. If these are successful and receive good reviews, they are continued. Magazines often have a short life.
Some of the most popular manga magazines are Shōnen Jump, Shōnen Ace, Jump Square, Shōnen Gangan, Shōnen Magazine, Young Jump, Young Magazine and Nakayoshi.
Dōjinshi
[
]
Main article: Dōjinshi Dōjinshi, produced by small publishers outside of the mainstream commercial market, resemble in their publishing small-press independently published comic books in the United States. Comiket, the largest comic book convention in the world with around 500,000 visitors gathering over three days, is devoted to dōjinshi. While they most often contain original stories, many are parodies of or include characters from popular manga and anime series. Some dōjinshi continue with a series' story or write an entirely new one using its characters, much like fan fiction. In 2007, dōjinshi sold for 27.73 billion yen (245 million USD).
Awards
[
]
The Japanese manga industry grants a large number of awards, mostly sponsored by publishers, with the winning prize usually including publication of the winning stories in magazines released by the sponsoring publisher. Examples of these awards include:
the Akatsuka Award for humorous manga
the Dengeki Comic Grand Prix for one-shot manga
the Kodansha Manga Award (multiple genre awards)
the Seiun Award for best science fiction comic of the year
the Shogakukan Manga Award (multiple genres)
the Tezuka Award for best new serial manga
the Tezuka Osamu Cultural Prize (multiple genres)
The Japanese Ministry of Foreign Affairs has awarded the International Manga Award annually since May 2007.
References
[
]
See also
[
]
External links
[
]
Related