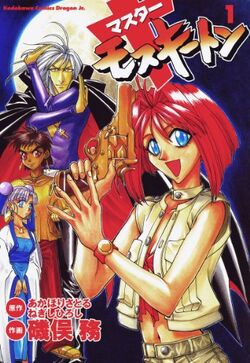 ---
Master of Mosquiton Wiki
Wiki founding
:
Error: Invalid time.
"Error: Invalid time." contains an extrinsic dash or other characters that are invalid for a date interpretation.
Page count
: 3
Last checked
: 2017/12/19
---
---
Master of Mosquiton (マスターモスキートン, Masutā Mosukīton) is a Japanese manga series written by Hiroshi Negishi and Satoru Akahori and illustrated by Tsutomu Isomata. The manga was later adapted into a 1996 original video animation series based on the first volume, and later into 1997 anime series titled Master of Mosquiton '99 for the remainder of the manga.
Plot
[
]
In the 1920's, Inaho resurrects a vampire named Mosquiton with her blood who becomes her slave. Now, Inaho is after the O-Part, which will grant her immortality. However, a bunch of supernatural monsters are out to stop them from achieving their goal.
Master Mosquiton 99

[

]
Present day, Catholic schoolgirl Inaho Hitomibore discovers that a vampire, Mosquiton, is feeding off of her classmates. After Inaho manages to stake him, Mosquiton revives after her blood comes in contact with his remains and becomes her slave and also a history teacher. Together, along with Yuuki and Honou, the unlikely duo have many escapades and adventures. One of Inaho's main goals is to find the mythical O-Part to make some money!
External Links
[
]
Official
[
]
Other Sources
[
]
Other Wikis
[
]
References
[
]