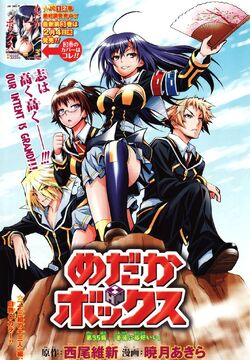 ---
Medaka Box Wiki
Wiki founding
: September 12, 2009
Page count
: 616
Last checked
: September 3, 2017
---
Medaka Box (めだかボックス, Medaka Bokkusu) is a manga written by Nisio Isin and illustrated by Akira Akatsuki. Medaka Box is serialized in the Japanese magazine Weekly Shōnen Jump, published by Shueisha since May 2009. The series is a pastiche of common tropes and cliches often found in the shonen manga genre. As of February 2012, Shueisha has compiled its chapters into nineteen bound volumes. The anime version of Medaka Box is produced by Gainax and directed by Shoji Saeki. The first season began broadcasting in Japan on April 4, 2012, and ended on June 20th, 2012. The second season premiered on October 10, 2012.
The plot follows Medaka Kurokami, a freshman student of Hakoniwa Academy. Medaka is elected Student Council President and institutes a suggestion box, for the students to make suggestions and requests. Together with her childhood friend Zenkichi Hitoyoshi, Medaka addresses these requests in an episodic manner. During the course of the story, Kouki Akune and Mogana Kikaijima join the Student Council. They soon learn the academy chairman intends to initiate the Flask Plan, a project to forcefully experiment on Normal students to turn them into Abnormals, humans with superhuman abilities. The Student Council infiltrates the academy's secret lab and battles with other students participating in the project to put an end to the Flask Plan. Later, the Student Council are challenged to a tournament by Misogi Kumagawa who wishes to replace Medaka's Student Council with one of his own. After Kumagawa's defeat, two students are unsealed from his powers and complete their transfer to Hakoniwa Academy. The two are more powerful than Abnormals and are dubbed "Not Equals". Their leader, Anshin'in, threatens to restart the Flask Plan once Medaka graduates, forcing the Student Council to train their successors. However, Anshin'in's true plan is to have Zenkichi usurp Medaka's position as Student Council President. Zenkichi does so on the pretense of improving the student life and succeeds. He convinces Medaka to allow the Flask Plan for those who are willing.
Relieved from her duties as president of the Student Council, Medaka soon becomes involved in a tournament to decide her husband. Medaka enters herself and becomes the victor, choosing to marry Zenkichi once they both graduate. Soon after, Zenkichi's close friend Hansode Shiranui leaves the academy. Medaka and Zenkichi discover she is to become the next host for Iihiko Shishime, a 5000 year old being, and set out to confront him.
External Links
Edit
English
Japanese
References
Edit
Community content is available under
CC-BY-SA
unless otherwise noted.