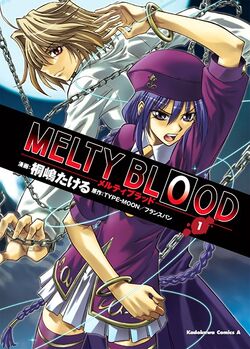 ---
TYPE-MOON Wiki
Wiki founding
: 2007/08/01
Page count
: 2,117
Last checked
: 2021/05/07
---
Genre:

Action , Comedy , Fantasy , Horror , Supernatural 

Media:
Melty Blood (メルティブラッド, Meruti Buraddo) is a visual novel game, co-developed by dōjin circles Type-Moon and French-Bread, originally released at Comiket in December 2002. It is shortened as simply Merubura (メルブラ).
Plot
[
]
The story of Melty Blood follows one year after Tsukihime and some days after Kagetsu Tohya. In the beginning of August 2001, Shiki Tohno hears of a new series of murders in Misaki Town, similar to the ones that took place in Tsukihime, in the last weeks of October 1999. Whilst searching for the murderer he meets Sion Eltnam Atlasia who initiates a fight with him, attempting to capture him. After the fight she reveals that her reason for trying to capture him is to get in contact with the "True Ancestor" (referring to Arcueid) so that she may acquire information on the "cure for vampirism". Shiki then decides to help her with this task.
The story moves through a series of fights. Depending on the outcome of the fight the story will branch in one of two ways. Ultimately this corresponds to the ending of the game.
External Links
[
]
Official
[
]
Other Sources
[
]
Other Wikis
[
]
References
[
]