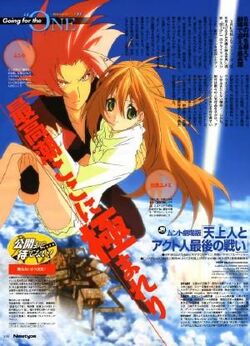 ---
Munto Wiki
Wiki founding
: 2011/05/07
Page count
: 37
Last checked
: 2020/07/30
---
---
Munto is a two-episode original video animation project by Kyoto Animation, first released in 2003 titled Munto followed by a 2005 sequel Munto: Beyond the Walls of Time. An animated television series entitled Sora o Miageru Shōjo no Hitomi ni Utsuru Sekai based on the OVAs was produced by Kyoto Animation and directed by Yoshiji Kigami. The TV series is a nine-episode continuation of the OVAs, and aired in Japan between January and March 2009 on Chiba TV. The TV series includes an updated director's cut of the OVA episodes with new animation and footage. A manga adaptation of the TV series illustrated by Makoto 2-gō began serialization in the May 2009 issue of Kadokawa Shoten's Comp Ace magazine. An animated film named Tenjōbito to Akutobito Saigo no Tatakai (天上人とアクト人 最後の戦い) was released on April 18, 2009.
In the distant past ofMunto when the world of the Heavens did not exist, humans lived a prosperous civilization. One day, beings of unknown origins fell out of the sky and onto human world. These beings could control a power called Akuto, or human emotions. They could take the human spirit, which is an accretion of feelings, wishes and dreams and turn that into a physical power or physical object. These beings, obsessed with their powers, destroyed the human civilization within a few days. However, they did not realize that the humans created the Akuto; these beings who descended from the skies killed off the very source of their power. They then discovered several alternate universes which they could draw more Akuto from. They depleted all the other dimensions of Akuto and used it to create their own empire in the skies above the humans. This new civilization was known as the Heavens and was populated by the Heavenly Beings who could control Akuto.
Community content is available under
CC-BY-SA
unless otherwise noted.