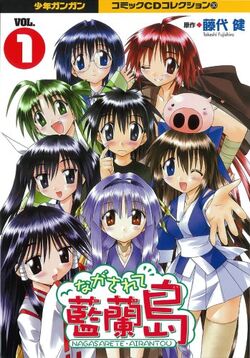 ---
Nagasarete Airantou Wiki
Wiki founding
: 2011/07/12
Page count
: 70
Last checked
: 2017/07/19
---
Genre:

Comedy , Fantasy , Romance , Supernatural 

Media:
Nagasarete Airantou (ながされて藍蘭島, Nagasarete Airantou), is a manga written and illustrated by Takeshi Fujishiro. It was published in Monthly Shōnen Gangan from January 2002. Twenty two volumes and some drama CDs based on the manga have been released in Japan as of March 2014. An anime adaptation made by the animation studio Feel aired in Japan between April 4 and September 26, 2007, containing twenty-six episodes.
Fourteen year old Ikuto Tōhōin has run away from his home after a fight with his father. While travelling on a cruise ship a storm throws him overboard and after drifting for a week he is saved by Suzu, who tries to give him CPR. After recovering, Suzu tells Ikuto that he is on the island Airantou, which is uncharted and cut of from the outside world. Suzu's ancestors where also stranded on the island 130 years earlier, after returning to Japan from visiting Great Britain. Ikuto decides to leave the island, but discovers that it is impossible due to whirlpools. Due to his stubborn personality and refusal to give up, he keeps trying and needs to be saved by Suzu again. Ikuto decides to stay on the island, but is soon attacked and cased by a huge crowd of girls. The village chief, Obaba, declares that there will be a contest where the winner will get Ikuto as prize. After demanding to know what is going on, Ikuto learns that there is no male humans on the island, except for him (they where swept away by a tsunami during a fishing contest twelve years before the series started).
Ikuto tries to outrun the girls while Suzu tries to help him from the shadows, but accidentally wins the contest. Since she isn't interested in a relationship, they decides to just live together. Ikuto tries to settle in and gets used to live on the island and soon discovers that the island holds several mysteries. While deciding whether to stay or trying to leave again, the young girls makes new plans on how making Ikuto their husband.
Community content is available under
CC-BY-SA
unless otherwise noted.