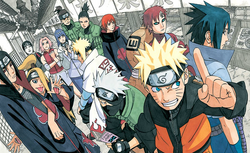 ---
Narutopedia
Wiki founding: March 30, 2006
Page count: 6,531
Last checked: February 10, 2018

---
Fanon Wiki: Naruto Fanon Wiki
---
Demographic:

Genre:

Tags:

Media:
Naruto (ナルト) is a Japanese manga series written and illustrated by Masashi Kishimoto. The series is based on two one-shot manga by Kishimoto. The first one, titled Karakuri, released in 1995 by Shueisha and earned Kishimoto an honorable mention in Shueisha's monthly Hop Step Award in 1996. The second one, titled Naruto, published in the summer 1997 issue of Akamaru Jump.
Naruto was serialized in Shueisha's Weekly Shōnen Jump magazine from September 21, 1999, to November 10, 2014. Seventy-two tankōbon volumes were released. It currently is the third best-selling manga series in history, selling more than 220 million copies worldwide. The manga later adapted into a television anime produced by Studio Pierrot and Aniplex. It premiered across Japan on the terrestrial TV Tokyo and other TX Network stations on October 3, 2002, and ended on February 8, 2007 with 220 episodes. The English adaptation of the series premiered on Cartoon Network's programming block named Toonami on September 10, 2005, and concluded on January 31, 2009. Naruto: Shippuden, a sequel to the original series, aired from February 15, 2007, to March 23, 2017 with 500 episodes. The English adaptation was broadcast on Disney XD from October 28, 2009, to November 5, 2011, and on Adult Swim's Toonami block in January 2014. Besides the anime series, Studio Pierrot has developed eleven movies and several original video animations (OVAs). Other types of merchandise include light novels, video games, and trading cards developed by several companies.
Viz Media has licensed the manga and anime for North American production. Viz serialized Naruto in their digital Weekly Shonen Jump magazine, publishing the individual volumes. The anime series began airing in the United States and Canada in 2005, and in the United Kingdom and Australia in 2006 and 2007, respectively. The films and most OVAs from the series have also released by Viz, with the first film premiering in movie theaters. Viz Media began streaming the two anime series on their streaming service Neon Alley in December 2012.
Boruto: Naruto Next Generations (Japanese: BORUTO-ボルト- NARUTO NEXT GENERATIONS) is a Japanese manga series written by Ukyō Kodachi and illustrated by Mikio Ikemoto. Serialized in Shueisha's shōnen manga magazine Weekly Shōnen Jump, Boruto is a spin-off of and sequel to Masashi Kishimoto's Naruto. An anime television series adaptation directed by Noriyuki Abe started airing on TV Tokyo on April 5, 2017.
Twelve years before the start of the series, the Nine-Tails attacked Konohagakure destroying much of the village and taking many lives. The leader of the village, the Fourth Hokage sacrificed his life to seal the Nine-Tails into a newborn, Naruto Uzumaki. Orphaned by the attack, Naruto was shunned by the villagers, who out of fear and anger, viewed him as the Nine-Tails itself. Though the Third Hokage outlawed speaking about anything related to the Nine-Tails, the children — taking their cues from their parents — inherited the same animosity towards Naruto. In his thirst to be acknowledged, Naruto vowed he would one day become the greatest Hokage the village had ever seen.
Following the successful end of the Fourth Shinobi World War, Konohagakure has been enjoying a period of peace, prosperity, and extraordinary technological advancement. This is all due to the efforts of the Allied Shinobi Forces and the village's Seventh Hokage, Naruto Uzumaki. Now resembling a modern metropolis, Konohagakure has changed, particularly the life of a shinobi. Under the watchful eye of Naruto and his old comrades, a new generation of shinobi has stepped up to learn the ways of the ninja.
Boruto Uzumaki is often the center of attention as the son of the Seventh Hokage. Despite having inherited Naruto's boisterous and stubborn demeanor, Boruto is considered a prodigy and is able to unleash his potential with the help of supportive friends and family. Unfortunately, this has only worsened his arrogance and his desire to surpass Naruto which, along with his father's busy lifestyle, has strained their relationship. However, a sinister force brewing within the village may threaten Boruto's carefree life.
New friends and familiar faces join Boruto as a new story begins in Boruto: Naruto Next Generations.
Community content is available under
CC-BY-SA
unless otherwise noted.