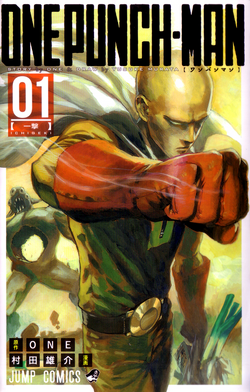 ---
OnePunch-Man Wiki
Wiki founding
: November 9, 2012
Page count
: 938
Last checked
: February 18, 2019
---
Demographic:

Genre:

Tags:

Media:
One-Punch Man (ワンパンマン, Wanpanman) is an ongoing Japanese superhero parody webcomic created by an author using the pseudonym One which began publication in early 2009. The series quickly went viral, surpassing 7.9 million hits in June 2012. The Japanese shortened name Wanpanman is a play on the long-running children's character Anpanman, wanpan being a contraction of wanpanchi ("one punch").
One began publishing One-Punch Man as a webcomic in 2009. As of July 2016, the webcomic has released 108 chapters. When the series became popular, receiving 7.9 million hits by June 2012, Yusuke Murata contacted One with a proposal to redraw the comic for digital publication in Weekly Young Jump's spin-off manga website Young Jump Web Comics (となりのヤングジャンプ, Tonari no Yangu Janpu), published by Shueisha. The first chapter was published on June 14, 2012. A drama CD was bundled with the ninth volume, which was released in August 2015.
The series began publication in Viz Media's Weekly Shonen Jump (Shonen Jump Alpha at the time) in North America on January 21, 2013. The first digital volume was released in February 2014. One-Punch Man was one of a number of series that Viz made available on ComiXology in June 2014. The manga was released in print in the United States starting in September 2015.
A digital manga remake of the series, illustrated by Yusuke Murata, began publication on Shueisha's Young Jump Web Comics website in 2012. Viz Media has licensed the remake for English serialization in its Weekly Shonen Jump digital magazine.
A television anime adaptation by Madhouse aired in Japan between October and December 2015. A second season is currently in the works.
The story takes place in the fictional Japanese metropolis of City Z. The world is full of strange monsters that mysteriously appear and cause disasters. Saitama, the protagonist, is an incredibly powerful hero who can easily defeat the monsters or other villains with a single punch. However, due to his overwhelming strength, Saitama has become bored with his powers and is constantly trying to find stronger opponents who can present a challenge to him.
On his adventures, he meets new friends, enemies, and his own disciple, the cyborg Genos, and joins the Heroes Association in order to gain official recognition as a hero. Despite defeating many strong monsters that even the Heroes Association's top members are unable to defeat, Saitama struggles to gain respect. Most people look down on him due to his plain physical appearance, and some accuse him of being a counterfeit hero. Only a small number of individuals recognize his incredible talent and humility towards others.
External Links
Edit
Other Sources
Edit
Other Wikis
Edit
References
Edit
Community content is available under
CC-BY-SA
unless otherwise noted.