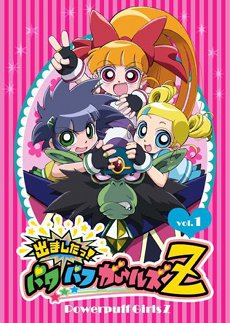 ---
ThePpGZ Wiki
Wiki founding
: March 5, 2011
Page count
: 137
Last checked
: July 26, 2017
---
Tags:

Media:
Powerpuff Girls Z, known in Japan as Demashita! Powerpuff Girls Z (出ましたっ!パワパフガールズZ, Demashita! Pawapafu Gāruzu Zetto?, roughly "They're Here! Powerpuff Girls Z") or PPGZ for short, is a magical girl anime series based on the American animated television series The Powerpuff Girls. The anime is co-produced by Cartoon Network Japan and Aniplex and was animated by Toei Animation, featuring character design by Miho Shimogasa. As production occurred in Japan, Craig McCracken, the original creator of The Powerpuff Girls, was not directly involved with the project.
The 52-episode series aired in Japan on TV Tokyo between July 1, 2006, and June 30, 2007. It also aired on AT-X and on Cartoon Network in Japan. An English-dubbed version produced by Ocean Group aired by Cartoon Network Philippines on their Boomerang channel in 2008, though has not yet been released in The United States. A manga of the same name ran in Shueisha's Ribon magazine between July 2006 and June 2007.
The series takes place in New Townsville (Tokyo City in the original Japanese version). In order to stop an ecological disaster, Professor Utonium's son, Ken Kitazawa, uses Chemical Z, a new form of the Professor's original substance, Chemical X, to destroy a giant glacier. However, the impact of Chemical Z causes several black and white rays of light to appear in the skies above New Townsville. Three ordinary girls, Momoko, Miyako and Kaoru, are engulfed in white lights and become Hyper Blossom, Rolling Bubbles, and Powered Buttercup, respectively. However, the numerous black lights cause others to turn to the side of evil, so the Powerpuff Girls Z must use their super powers to protect New Townsville from villains such as Mojo Jojo, Fuzzy Lumpkins and Him.
External LinksEdit
Other SourcesEdit
Other WikisEdit
ReferencesEdit