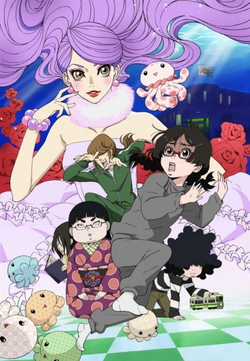 ---
Jellyfish Princess Wiki
Wiki founding
: January 27, 2011
Page count
: 181
Last checked
: July 25, 2017
---
---
Princess Jellyfish (海月姫, Kuragehime) is a Japanese josei manga series written and illustrated by Akiko Higashimura. It began serialization in the Kodansha manga magazine Kiss on November 10, 2008. An 11-episode anime television series based on the manga was produced by Brain's Base and aired on Fuji TV's Noitamina programming block between October and December 2010. The anime has been licensed by Funimation Entertainment.
Princess Jellyfish centers around Amamizukan, an apartment building in Tokyo, where the only tenants are otaku women, and where no men are allowed. While each character has her own particular fixation, the protagonist is Tsukimi Kurashita, whose love of jellyfish stems from memories of her dead mother taking her to an aquarium and linking the lace-like tendrils of jellyfish to the dresses of princesses. Tsukimi hopes to becomes an illustrator and is an awkward girl terrified of social interaction, attractive people and the prospect of formal work. The other tenants of Amamizukan are the same, being mainly fujoshi, NEETs and refer to themselves as the "Amars" (nuns). Tsukimi meets the stylish Kuranosuke Koibuchi, the illegitimate son of a politician, who cross-dresses to avoid the obligations of politics and to feel closer to his mother. Tsukimi keeps the secret of his masculinity from her man-hating housemates, even as she is troubled by the intimacy of having a man in her room at times. Amamizukan's surrounding neighborhood is under threat of redevelopment, as opportunists aim to turn the quaint area into a more cosmopolitan region, with many of the buildings being demolished to make room for hotels and shopping centers. Although Amamizukan's tenants fear and loathe attractive people, they are helped by Kuranosuke who does not want to see Amamizukan destroyed.
Community content is available under
CC-BY-SA
unless otherwise noted.