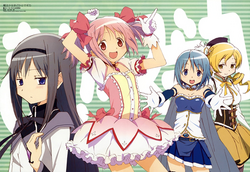 ---
The Puella Magi Wikia
Wiki founding: January 14, 2011
Page count: 106
Last checked: January 8, 2018

---
Fanon Wiki: Puella Magi Fanon Wiki
---
Puella Magi Madoka Magica (魔法少女まどか☆マギカ, Mahō Shōjo Madoka Magika, "Magical Girl Madoka Magica"), commonly referred to as simply Madoka Magica, is a Japanese anime television series produced by Shaft and Aniplex. It was directed by Akiyuki Shinbo and written by Gen Urobuchi, with original character designs by Ume Aoki, character design adaptation by Takahiro Kishida, and music by Yuki Kajiura.
The first ten episodes of the series aired in Japan on TBS and MBS between January and March 2011, while the final two episodes were delayed until April 2011 due to the 2011 Tōhoku earthquake and tsunami. A manga adaptation of the series and various spin-off manga series have been published by Houbunsha and licensed in North America by Yen Press. A novelization by Nitroplus was released in August 2011, and a dedicated magazine, Manga Time Kirara Magica, was launched by Houbunsha in June 2012. A video game for the PlayStation Portable was released in March 2012, with another for PlayStation Vita released in December 2013. A film series has also been produced, consisting of two films recapping the anime series, released in October 2012, and a third film featuring an original story which was released on October 26, 2013. A concept film acting as a trailer for a new project was screened in December 2015.
Puella Magi Madoka Magica has received widespread critical acclaim, with critics praising the writing, visuals, and soundtrack of the series as well as its unorthodox approach to the magical girl subgenre. It has also been a commercial success, with each BD volume selling more than 50,000 copies. The series has won several awards in Japan, such as the Television Award at the 16th Animation Kobe Awards, as well as 12 Newtype Anime Awards and the Grand Prize for animation in the 2011 Japan Media Arts awards.
In this world, there exist strange creatures who have the power to grant one wish to a chosen girl. However, in exchange, that girl must then become a magical girl and use their powers to fight against witches, evil creatures born from darkness that are responsible for murders and suicides.
In the city of Mitakihara, a schoolgirl named Madoka Kaname and her friend Sayaka Miki are approached by a familiar named Kyubey, who offers to grant each of them one wish in return for making each of them a magical girl. Another magical girl named Homura Akemi tries to prevent Madoka from making such a deal, while Kyubey urges Madoka by telling her she will become the most powerful magical girl. However, contrary to the glamorous notions one would expect, a magical girl finds herself dealing with death, isolation, loss of humanity, agony over the value of her wish, and existential crisis. Madoka, following her friends, soon sees the darker side of being a magical girl, and because of knowing the truth about being a magical girl, she questions if she should become one as well.
The spin-off manga, Puella Magi Kazumi Magica: The Innocent Malice, takes place in Asunaru City and follows an amnesiac magical girl named Kazumi who, along with a band of other magical girls known as the Pleiades Saints, starts to discover the dark nature of magical girls as she regains her memories.
Puella Magi Oriko Magica takes place in an alternate timeline to the main series, in which Homura, Mami Tomoe and Kyōko Sakura, along with a young orphaned girl named Yuma Chitose, find themselves up against a magical girl pair, Oriko Mikuni and Kirika Kure, who are hunting other magical girls.
External Links
Edit
Other Sources
Edit
Other Wikis
Edit
References
Edit
Community content is available under
CC-BY-SA
unless otherwise noted.