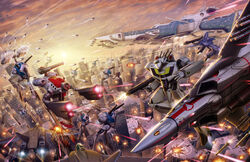 ---
ROBOTECH Saga Wiki
Page count
: 2,674
Last checked
: 2021/05/07
---
Fanon Wiki: Robotch Visions Wiki
---
Robotech is an anime franchise, originally adapted from three Japanese shows from which an expanded universe was made.
Plot
Robotech: The Macross Saga
A giant alien battleship crashes on Earth, after 10 years of reconstruction and global civil war, it is ready to launch but the gargantuan Zetraedi aliens have tracked down the ship, which had belonged to their enemies.
Robotech: The Shadow Chronicles
Taking place during and after the events of the final two episodes of the series, Robotech: The Shadow Chronicles follows the arrival of the Earth Expeditionary Fleet to retake their home planet from the Invid (the third cycle's villains). They are armed with special technology provided by a sinister race called the Haydonites that will hopefully provide them with the edge they need in battle. Characters from all three cycles of Robotech are united with newly created ones to deal with this new threat.
Robotech: The Shadow Chronicles is meant to be the start of a new movie franchise and series, with a sequel already in production. The live-action movie of Robotech may or may not impact the development of future products along this story. The movie was initially controversial due to their retconning of the previously canonical spin-off novels by James Luceno and Brian Daley (under the alias Jack McKinney).
External Links
References