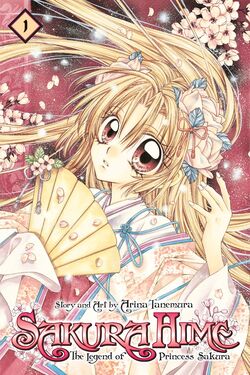 ---
Sakura Hime Kaden Wiki
Wiki founding
: June 21, 2012
Page count
: 24
Last checked
: September 17, 2018
---
Sakura Hime: The Legend of Princess Sakura (桜姫華伝 Sakura Hime Kaden, lit. "The Legend of Princess Sakura") is an ongoing manga series written by Arina Tanemura. It is currently serialized in Ribon, and published by Shueisha with ten volumes so far. Viz Media licensed the manga for North America.
The story follows Sakura, a 14-year-old princess. Her best friend is Asagiri, a cute female Mononoke (a tiny spirit) who she once saved from a life of slavery (unbeknownst to her, Asagiri is really a Yuki-Onna). Since birth, she's been engaged to Prince Oura. Not wanting to marry the prince, Sakura runs away but gets lost and accidentally looks at the full moon, which she was warned to never do. A man-eating demon arrives, referring to Sakura as "Princess Kaguya" and nearly wounds her, but Prince Oura's messenger and a priestess that Sakura knows arrive. Priestess Byakuya tells Sakura that she is in fact descended from Princess Kaguya and is the only one able to destroy the demons. By drawing a pair of back-to-back crescent moons on her palm, she is able to summon the mystic sword Chizakura and kill the demon. She also discovers the word "destroy" is actually her Soul Symbol (a symbol each person possesses that best represents his or her true nature). Unfortunately, she is now under threat of execution, as Oura is afraid that she will eventually become a demon herself, like her mother and grandmother before her. Sakura flees and found by a cute and sassy young ninja named Kohaku and her childhood friend Hayate, who used to be human but was accidentally turned into a frog by Kohaku (although he regains his human form during the full moon). She also learns that once every single demon is killed, she will return to the Moon. Now Sakura must destroy the demons while avoiding those who wish to kill her.
External Links
Edit
Other Sources
Edit
Other Wikis
Edit
References
Edit
Community content is available under
CC-BY-SA
unless otherwise noted.