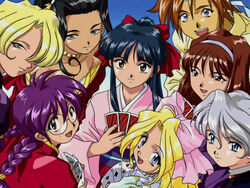 ---
Sakura Taisen Wiki
Wiki founding
: April 25, 2009
Page count
: 54
Last checked
: July 16, 2017
---
---
Genre:

Action , Romance , Supernatural , Mecha 

Tags:

Media:

Anime, Manga, OVA, Game, Visual Novel
Sakura Wars (サクラ大戦, Sakura Taisen) is a Japanese media franchise of tactical dating-simulation RPGs, created by Ouji Hiroi, and is developed and owned by Sega and licensed by Red Entertainment and Sega. The various OVA tie-ins, the animated TV series, and the motion picture were licensed in North America by ADV Films, Funimation, and Geneon (previously Pioneer Entertainment). The manga version, previously serialized in Kodansha's Magazine Z and now in Magazine Great, is also released in English by Tokyopop before it ceased a majority of its operations.
Set in an alternate Taishō period in the early 1990's, the series's historical timeline flows similar to that of present Japan while booming into the modern age with steam-powered technology. The Imperial Capital of Tokyo, Teito (for short), stood at the forefront of that period's technological revolution industrialized by Kanzaki Heavy Industries, the world's top steam-powered machinery manufacturer.
On Taishō 7 (1918), an event known as "The Kouma War" took place, where a huge demon appeared at Nihonbashi in Tokyo. It was eventually sealed away by the Imperial Army's Counter-Demon Team, but their success came at a huge cost. Due to this incident, an internationally approved effort was made to secure Tokyo from future spiritual threats, thus the formation of the Imperial Capital Defense Program and the Imperial Assault Force. The organization was supplied with dual-powered steam/spirit armor development by Kanzaki Heavy Industries. But due to the testing of its first prototype, results show that only young girls can bear high levels of spiritual power, giving birth to the misconception that only women could pilot the armor.
The government kept the organization a secret to the public under the guise of a Broadway theatre, while the women soldiers staged as a performance troupe to train their spiritual power, under the traditional reasoning that song and dance were considered methods that could suppress evil, while the stage is likened to a battlefield to build self-confidence. After the project in Japan proved successful, other countries soon followed with Paris and New York.
The franchise depicts the trials and tribulations of different attack squads as the individual members grow into their roles and strive to protect their respective cities, while dealing with personal issues at the same time.
Community content is available under
CC-BY-SA
unless otherwise noted.