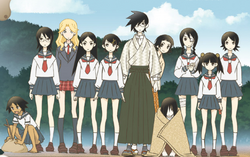 ---
Sayonara Zetsubou Sensei Wiki
Wiki founding
: July 2, 2009
Page count
: 40
Last checked
: June 17, 2017
---
Sayonara, Zetsubou-Sensei (さよなら 絶望先生, Sayonara Zetsubō Sensei, lit. "Goodbye, Mr. Despair") is a Japanese manga by Kōji Kumeta, serialized in Weekly Shōnen Magazine. In 2007, the manga received the thirty-first Kodansha Manga Award in the shōnen category, and was adapted into a twelve-episode anime series. A second season, a set of three OVAs and a third TV anime series followed.
Sayonara, Zetsubou-Sensei revolves around a very pessimistic high school teacher named Nozomu Itoshiki who, at the very beginning of the series, tries to hang himself on a sakura tree. He is saved by an extremely optimistic girl known only as Kafuka Fuura (though in her effort to save his life, she almost kills him). She explains to him that it is simply unimaginable that he would hang himself on such a nice day, especially in front of such beautiful trees. She decides to nickname Nozomu "Pink Supervisor" (桃色係長, Momoiro Kakarichō), and offers to pay him fifty yen to call him by that nickname. After having enough of the strange girl, Nozomu bolts to the school and starts his homeroom class, but the attempt to escape was in vain as he finds that the girl is one of his students. Not only that, but Kafuka is just the tip of the iceberg: each and every student in his class represents a new personality quirk or bizarre obsession, posing challenges that the suicidally inclined teacher must overcome in spite of himself.
Each chapter or episode of the series revolves around a particular aspect of life, Japanese culture, or a common phrase in the Japanese language. Typically, this involves the subject being taken either to its most logical extreme (a discussion of amakudari, the practice of "descending" from the public to the private sector, results in Nozomu "descending" until he reaches his previous life), or taken literally (in Nozomu's family, omiai, normally a meeting between a potential match in an arranged marriage, is instead a marriage made official by eye-contact). On other occasions, Nozomu challenges his students to think about the negative aspects of something usually considered positive. These in-depth, off-kilter analyses (along with the reactions of the students according to their own personality quirks) are usually brought to a head with a punchline based on the overall premise, or more rarely, a non-sequitur gag or piece of fan service.
External Links
Edit
Other Sources
Edit
Other Wikis
Edit
References
Edit
Community content is available under
CC-BY-SA
unless otherwise noted.