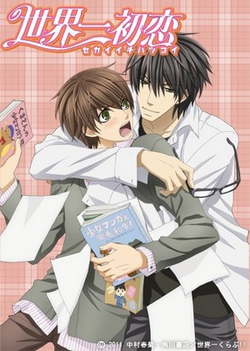 ---
Sekai-ichi Hatsukoi Wiki
Wiki founding
: 2011/04/11
Page count
: 120
Last checked
: 2017/12/01
---
Demographic:

Genre:

Tags:

Media:

Spin-off:
Sekai-ichi Hatsukoi (世界一初恋; lit. "The World's Greatest First Love") is a Japanese boys' love series created by Shungiku Nakamura. It began as a manga series written and illustrated by Nakamura, and a light novel series written by Fujisaki Miyako with illustrations by Nakamura. The first chapters of the manga and the light novel were released together in October 2006.
In 2011, the manga and light novels were adapted into an anime television series. Produced by Studio Deen under the direction of Chiaki Kon, the anime series began its broadcast run on April 9, 2011.[1] An original animation DVD was bundled with the fifth volume of the manga series, released less than two weeks before the season premiere in March 2011.[2] A second OVA DVD was bundled with the sixth manga volume, released between seasons 1 and 2 of the anime. A movie was later released in theaters in 2014.
The series is a spin-off of Nakamura's other popular manga series Junjou Romantica.
Storylines
[
]
The series has four main storylines:
Onodera Ritsu no Baai (小野寺律の場合; lit. "The Case of Ritsu Onodera") is the main story told in the manga series and the anime adaptation.
Yoshino Chiaki no Baai (吉野千秋の場合; lit. "The Case of Chiaki Yoshino") is the first light novel series and is a secondary story in the anime adaptation.
Kisa Shouta no Baai (木佐 翔太の場合; lit. "The Case of Shouta Kisa") is a secondary story told in the manga series and the anime adaptation.
Yokozawa Takafumi no Baai (横澤隆史の場合; lit. "The Case of Takafumi Yokozawa") is the second light novel series and features in the 2014 movie.
Plot
[
]
Onodera Ritsu, a literary editor, resigns from his father's publishing company, due to his coworkers' jealousy of his success, claiming that he is simply riding his father's business. He applies for a position at Marukawa Publishing, but instead of his preferred department of literature, he gets sent to the infamous shōjo manga department, Emerald. He initially considers resigning, especially because he finds his new boss, Masamune Takano, intolerable and unnerving from the very beginning; however, Takano inadvertently convinces Onodera to stick with the job by calling him "useless," his pride forcing him to stay in order to prove his worth. Later, Onodera learns that Takano's old family name was Saga, an older schoolmate from high school that Ritsu fell in love with and confessed to.
External Links
[
]
Official
[
]
Other Sources
[
]
Other Wikis
[
]
References
[
]