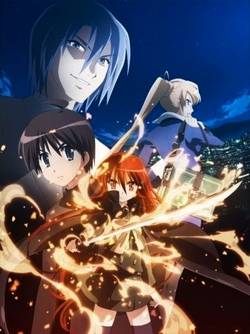 ---
Shakugan no Shana Wiki
Wiki founding
: December 8, 2008
Page count
: 606
Last checked
: June 17, 2017
---
Genre:

Action , Drama , Romance , Supernatural 

Media:

Anime, Manga, Light Novel, OVA, Film, Game, Audio Drama, Guide Book
Shakugan no Shana (灼眼のシャナ; lit. "Burning-Eyed Shana"), also known simply as Shana, is a series of Japanese light novels and related media works written by Japanese novelist Yashichiro Takahashi and illustrated by Noizi Ito.
Shakugan no Shana began as a light novel series first serialized under the seinen label Dengeki Bunko published by MediaWorks with the first complete novel released on November 10, 2002 in Japan. In time, a manga series was created with art by Ayato Sasakura first serialized in the manga magazine Dengeki Daioh, in February 2005. Both the light novel and manga are currently being released in Japan. So far, there have been eighteen light novels and five manga volumes. The most recent light novel, book SII, was released in Japan on June 10, 2008. A twenty-four episode anime series was adapted by J.C.Staff and it aired between October 2005 and March 2006. An original video animation episode and animated film were also produced in December 2006 and April 2007, respectively. A second anime series entitled Shakugan no Shana Second aired in Japan between October 2007 and March 2008. A third anime series will be produced. A PlayStation 2 video game released in March 2006 followed and a second video game for the Nintendo DS was released in March 2007.
Viz Media announced at Comic-Con 2006 that they have licensed the right to release the English translations of both the Shakugan no Shana light novels and the manga series. Additionally, Geneon Entertainment licensed the first anime TV series in America and the first DVD was released on September 5, 2006. The DVDs were out of print indefinitely until July 3, 2008, as Geneon withdrew from the American market. On July 3, 2008, Geneon and Funimation Entertainment announced an agreement to distribute select titles in North America. While Geneon will still retain the license, Funimation will assume exclusive rights to the manufacturing, marketing, sales and distribution of select titles. Shakugan no Shana was one of several titles involved in the deal.
Yuji Sakai, a high school student, expected his very normal life to last forever. However, this expectation is quickly shattered one day when he stumbles upon a battle between a grotesque creature and a young girl with flaming-red hair. The girl reveals herself to be a Flame Haze, a force that aims to balance the existence of the world, and among her enemies are otherworldly creatures called Crimson Denizens.
The boy eventually discovers that he has long since died, and is now a mere shell of himself, a Torch, created to replace existences consumed by Crimson Denizens. Unfazed by his apparent death, Yuji befriends the strange girl and names her "Shana" after her sword.
External Links
Edit
Other Sources
Edit
Other Wikis
Edit
References
Edit