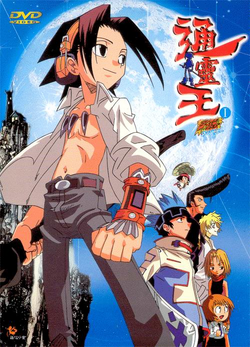 ---
Shaman King Wiki
Wiki founding: 2007/09/11
Page count: 559
Last checked: 2021/05/05

---
Fanon Wiki: Shaman King Fanon Wiki
---
Demographic:

Genre:

Tags:

Media:
Shaman King (シャーマンキング, Shāman Kingu) is a Japanese manga series written and illustrated by Hiroyuki Takei. Shaman King follows the adventures of Yoh Asakura as he attempts to hone his shaman skills to become the Shaman King in the Shaman tournament.
Shaman King was serialized in the Japanese manga anthology Weekly Shōnen Jump between 1998 and 2004 and has been collected in thirty-two tankōbon volumes. Since its publication, Shaman King has spawned a substantial media franchise. The manga has been adapted into an animated television series produced by Xebec and co-produced by TV Tokyo. The series has also spawned numerous video games and a trading card game.
Viz Media licensed the manga for English-language publication in the United States and Canada and has released twenty-seven volumes as of March 2010. 4Kids Entertainment obtained the rights to the Shaman King anime where it premiered on 4Kids network Foxbox on August 30, 2003.
Shaman King Flowers (シャーマンキングFlowers, Shāman Kingu Furawāzu) is a Japanese manga series written and illustrated by Hiroyuki Takei. The series was published in Jump Kai from 10th April 2012 to 10th October 2014.
Plot
[
]
Shaman King

[

]
A battle is about to begin in Tokyo: the Shaman Fight, a tournament held every five hundred years where shaman—those who can command spirits—confront each other in combat. The victor of this contest becomes the Shaman King and the only one who is able to contact and control the Great Spirit, allowing them to reshape the world as they please through its immense power.
During a late night walk, Manta Oyamada runs into his classmate, the carefree You Asakura, who invites him to come stargazing with some friends, who, to Manta's horror, turn out to be ghosts from a local cemetery! However, the knowledge that Manta possesses—a rare sixth sense that allows Manta to see these spirits—endears the boy to You. So when You finds out that his new comrade has been beaten up by a local gang, he decides to avenge him with the help of Amidamaru, a samurai ghost whose tomb was broken by the gang leader.
Soon Manta uncovers more about the world of spirits, including the Shaman Fight, in which his new friend You aims to claim victory.
Shaman King: Flowers

[

]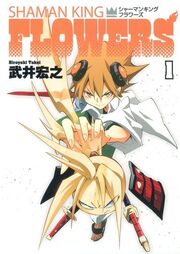 The sequel to the Shaman King and Shaman King Kang Zeng Bang series. Takes place 10 years after the end of Shaman King Kang Zeng Bang. It focuses on You Asakura's son, Hana and other shaman who are chosen to fight in the upcoming Flower of Maize tournament.
External Links
[
]
Official
[
]
Other Sources
[
]
Other Wikis
[
]
References
[
]