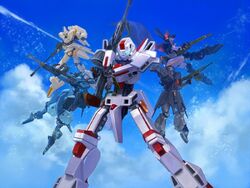 ---
Mechapedia
Page count
: 89
Last checked
: August 20, 2020
---
Straight Title Robot Anime (直球表題ロボットアニメ, Chokkyuu Hyoudai Robotto Anime) is a CG robot anime produced by Studio Yaoyorozu that aired from February 6 to April 24, 2013. The series is created with the MikuMikuDance animation software and is the first MMD-based program to air on TV.
In the year 9013 (Mobile Century 8013), where the Earth is no longer populated by humanity and military robots fight for unknown purposes. Three non-combatant robots, Fuji, Kato, and Mori attempt to end the war that lasted for 7 millennia by investigating human laughter.
Community content is available under
CC-BY-SA
unless otherwise noted.