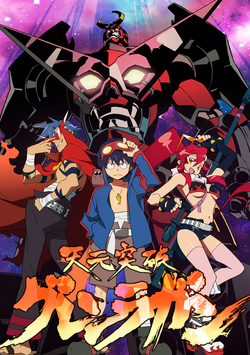 ---
Tengen Toppa Gurren Lagann Wiki
Wiki founding
: October 3, 2008
Page count
: 173
Last checked
: July 20, 2017
---
---
Gurren Lagann, known in Japan as Tengen Toppa Gurren Lagann (天元突破グレンラガン, Tengen Toppa Guren Ragan, literally "Heaven-Piercing Gurren Lagann"), is a Japanese mecha anime television series animated by Gainax and co-produced by Aniplex and Konami. It ran for twenty-seven episodes on Japan's TV Tokyo between April 1, 2007 and September 30, 2007. It was directed by Hiroyuki Imaishi, written by veteran playwright Kazuki Nakashima and had been in development since the participation of the famed animator in the Abenobashi mecha themed episodes by the same studio. The anime won several awards at the Tokyo International Anime Fair and the Animation Kobe and Japan Media Arts Festivals.
Licensing for a North American release of Gurren Lagann was announced by ADV Films at AnimeExpo 2007 on June 30, 2007; however, after an unexplained removal from ADV's catalog (despite having had finished the first five episodes), Bandai Entertainment announced it held the license at New York Comic Con 2008. It was also announced for a UK release by ADV Films at AmeCon 2007, however, at AmeCon 2008 Beez Entertainment announced that they had the UK distribution rights instead. It was also announced by ADV Films Germany for a summer 2008 release. The Sci Fi Channel acquired the broadcasting rights of Gurren Lagann, and began airing the anime on July 28, 2008 as part of Sci Fi's Ani-Monday anime block.
A manga adaptation started serialization in MediaWorks' Dengeki Comic Gao! on April 27, 2007, but switched over to ASCII Media Works' manga magazine Dengeki Daioh on April 21, 2008 due to the former being discontinued on February 27, 2008. Bandai Entertainment licensed the manga and released it in English in North America. A series of light novels have also been created and are published by Shogakukan. A video game based on the series, for the Nintendo DS, was released in October 2007, bundled with a special episode of the anime series. Two animated film versions were produced. The first premiered in Japanese theaters on September 6, 2008, and the second premiered on April 25, 2009.
Gurren Lagann takes place in a fictional future where Earth is ruled by the Spiral King, Lordgenome, who forces mankind to live in isolated subterranean villages that have no contact with the surface world or other villages. These villages are under constant threat of earthquakes, so select villagers called diggers are relegated to expand their homes deeper underground. Simon, a meek young digger who is ostracized by his peers, finds solace in his best friend and older brother figure, an eccentric delinquent named Kamina, who allows Simon to join his gang, Team Gurren, to help him achieve his dream of visiting the surface world.
One day, Simon unearths a drill-shaped key called a Core Drill, followed by a small mecha resembling a face called a Gunman. Shortly thereafter, a giant Gunman crashes through the ceiling and begins attacking the village, followed by a girl named Yoko who attempts to repel the Gunman. Simon uses his Core Drill to activate the smaller Gunman, which Kamina names Lagann and is used to destroy the larger Gunman and break through to the surface world.
Simon and Kamina learn from Yoko that humans on the surface world are attacked each day by Gunmen piloted by Beastmen, humanoid creatures who serve as Lord genome's army. Kamina hijacks a Gunman and names it Gurren, combining it with Simon's Lagann to form the mecha Gurren Lagann. Their actions inspire other humans to steal their own Gunmen and join Team Gurren, which is eventually renamed Team Dai-Gurren. Eventually Team Dai-Gurren captures an enemy Gunmen fortress to use as their base of operations, though Kamina is killed in the preceding battle.
Simon sinks into depression following Kamina's death when he meets Nia, Lordgenome's daughter. Team Dai-Gurren is initially distrustful of her, but allows her to join when it becomes apparent that she was abandoned by her father. Nia helps Simon come to terms with Kamina's death, and he takes up the role as Team Dai-Gurren's leader, leading them to defeat Lordgenome and the Beastman army.
Seven years later, mankind has prospered on the surface world with Simon and the members of Team Dai-Gurren serving as the world's government. This attracts the attention of a new threat called the Anti-Spirals, who use Nia as their messenger to announce the moon's collision with Earth, which will wipe out all life on the planet. With guidance from a partially resurrected Lordgenome, Team Dai-Gurren prevents the moon's collision, rescues Nia, and destroys the Anti-Spirals. This, however, causes Nia to fade away and die as her own existence is tied to that of the Anti-Spirals. Simon spends the rest of his life wandering the planet as a nameless vagrant while his comrades set out to contact other races throughout the galaxy to ensure the safety of the universe.
External Links
Edit
Other Sources
Edit
Other Wikis
Edit
References
Edit
Community content is available under
CC-BY-SA
unless otherwise noted.