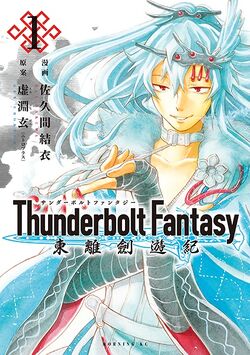 ---
---
Demographic:

Genre:

Tags:

Media:
Thunderbolt Fantasy (Thunderbolt Fantasy -東離劍遊紀-, Sandāboruto Fantajī: Tōriken Yūki,; lit. "Thunderbolt Fantasy: Sword Travels in the East") is a Japanese-Taiwanese glove puppetry wu-xia television series. It was created and written by Gen Urobuchi and produced as a collaboration between Japanese companies Nitroplus and Good Smile Company and Taiwanese puppet production company Pili International Multimedia.
The animation series premiered in Japan from July 8, 2016 and simulcasted by Bahamut and iQiyi Taiwan in Taiwan, Bilibili in Mainland China, and Crunchyroll in the US. It was broadcasted in two official languages: Taiwanese Min-Nan and Japanese version for countries outside Taiwan. A second season entitled Thunderbolt Fantasy: Sword Seekers premiered on October 1, 2018, with plans of a third season is current development.
For the publication media, the first manga illustrated by Yui Sakuma was serialized in Kodansha's Weekly Morning magazine from July 21, 2016 to April 6, 2017. A second manga under the title Otome Genyūki was illustrated by Kairi Shimotsuki and serialized in Akita Shoten's Champion Cross online magazine from September 27, 2016 to February 28, 2017. A side novel that focuses on the pasts of Lǐn Xuě Yā, Xíng Hài, and Shā Wú Shēng was released on April 7, 2017.
In an ancient kingdom, a vicious warlord is on the hunt for a magical sword. Forced to escape his soldiers, the young girl who guards the sword is hunted until she receives some unexpected help from a pair of odd strangers.
External LinksEdit
Other SourcesEdit
Other WikisEdit
ReferencesEdit