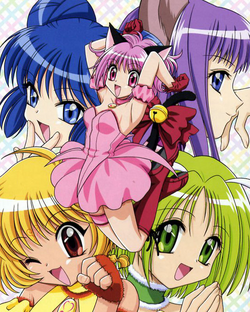 ---
Tokyo Mew Mew Wiki
Wiki founding: December 5, 2007
Page count: 232
Last checked: December 22, 2018

---
Fanon Wiki: Tokyo Mew Mew Fanon Wiki
---
Tokyo Mew Mew (東京ミュウミュウ, Tōkyō Myū Myū), also known as Mew Mew Power, is a Japanese shōjo manga series written by Reiko Yoshida and illustrated by Mia Ikumi. It was originally serialized in Nakayoshi from September 2000 to February 2003, and later published in seven tankōbon volumes by Kodansha from April 2003 to May 2004. It focuses on five girls infused with the DNA of rare animals that gives them special powers and allows them to transform into "Mew Mews". Led by Ichigo Momomiya (Zoey Hanson), the girls protect the earth from aliens who wish to "reclaim" it.
The series was quickly adapted into a fifty-two episode anime series by Studio Pierrot. It debuted in Japan on April 6, 2002, on both TV Aichi and TV Tokyo; the final episode aired on March 29, 2003. A two-volume sequel to the manga, Tokyo Mew Mew a la Mode, was serialized in Nakayoshi from April 2003 to February 2004. The sequel introduces a new Mew Mew, Berry Shirayuki, who becomes the temporary leader of the Mew Mews whilst Ichigo (Zoey) is on a trip to England.
Plot
At the start of the series, a young girl named Ichigo Momomiya (Zoey Hanson) attends an endangered species exhibit with her 'crush' and future boyfriend, Masaya Aoyama (Mark). After an earthquake, Ichigo (Zoey) and four other girls are bathed in a strange light. A cat appears before Ichigo (Zoey), then merges with her. The next day she begins acting like a cat and, after meeting Ryou Shirogane (Elliot Grant) and Keiichiro Akasaka (Wesley J. Coolridge III), learns that she was infused with the DNA of the Iriomote Cat. Ryou (Elliot) and Keiichiro (Wesley) explain that this allows her to transform into Mew Ichigo (Mew Zoey), a powerful heroic cat girl. She is ordered to defeat chimera animas—alien parasites—which infect animals and turn them into monsters. Ryou (Elliot) and Keiichiro (Wesley) instruct Ichigo (Zoey) to find the four other girls from the exhibit—the remaining Mew Mews. They are Minto Aizawa (Corina Bucksworth), a spoiled, wealthy girl who is infused with the genes of the Ultramarine Lorikeet; Retasu Midorikawa (Bridget Verdant), a meek but smart girl who endures constant bullying and absorbs the genes of the Finless Porpoise; young Bu-Ling Huang (Kikki Benjamin), who receives the genes of the Golden Lion Tamarin; and Zakuro Fujiwara (Renée Roberts), a professional model infused with the genes of the Gray Wolf.
The five Mew Mews battle the chimera animas and their alien controllers, Quiche (Dren), Pie (Sardon) and Tart (Tarb). Quiche (Dren) claims to be in love with Ichigo (Zoey) ; he tries to gain her love despite the fact that he is trying to eliminate the other Mew Mews. Two more aliens, Pie (Sardon) and Tart (Tarb), later join Quiche (Dren) in trying to destroy the Mew Mews.
External Links
Official
Other Sources
Other Wikis
References
Community content is available under
CC-BY-SA
unless otherwise noted.