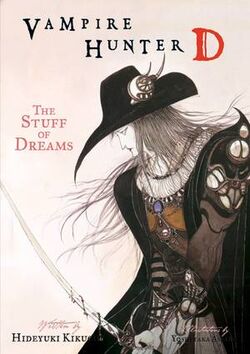 ---
Vampire Hunter D Wiki
Wiki founding
: August 6, 2009
Page count
: 2,140
Last checked
: December 2, 2017
---
Genre:

Comedy , Horror , Supernatural 

Media:
Vampire Hunter D (吸血鬼ハンターD, Kyūketsuki Hantā Dī) is a series of Japanese novels written by Hideyuki Kikuchi and illustrated by Yoshitaka Amano since 1983.
To date, 21 volumes have been published in the main series, with some volumes comprising as many as four books. The series has also spawned anime, audio drama, and manga adaptations, as well as a short story collection, art books, a Live-action film and a supplemental guide book. In the January 2010 issue of Rue Morgue, Hideyuki Kikuchi stated that a Vampire Hunter D anime series is currently in the planning stages in Japan.
D, a sort of lone wolf-like knight-errant, wanders through a far-future post-nuclear Earth that combines elements of pulp genres: western, science fiction, horror, high fantasy, H. P. Lovecraftian mythos, folklore and occult science. The planet, once terrified by the elegant but cruel Nobles (vampires), ancient demons, mutants and their technological creations, is now slowly returning to a semblance of order and human control — thanks in part to the decadence that brought about the downfall of the vampire race, to the continued stubbornness of frontier dwellers and, to the rise of a caste of independent hunters-for-hire who eliminate supernatural threats.
The year is approximately 12,090 AD. Some time in 1999, a nuclear war occurred. The Nobility were vampires that planned for a possible nuclear war and sequestered all that was needed to rebuild civilization in their shelters. They use their science combined with magic to restore the world in their image. Nearly all magical creatures are engineered, with a very small number being demons who survived the holocaust. Despite their technology being great enough to create a blood substitute as food, they still prefer to feed on humans. As such, they create a civilization where vampires and humans coexist, eventually developing the planet into parklands and cities. The society eventually stagnates when vampire technology perfects scientific prophecy, which determines they are at their zenith of existence and thus are doomed to fall, overthrown by humans. The human race was also transformed at this time, with fear for the vampires being woven into the genetic level, and the inability to remember vampire weaknesses such as garlic and crucifixes.
Unlike vampires from traditional lore, the Nobility have the ability to reproduce sexually, although their offspring will permanently cease aging after reaching physical maturity, having inherited their vampire parent's immortality.
D is a dhampir, the half-breed child of a vampire father and human mother, the ideal vampire hunter. He is renowned for his consummate skill and unearthly grace, but feared and despised for his mixed lineage: born of both races but belonging to neither. Often underestimated by his opponents, D possesses surprising power and resourcefulness, having most of the strengths of the Nobility and only mild levels of their common weaknesses. It has been seen in both movies that his power is not only physical, but extends into the magical realm as well. His supernatural powers make him one of the strongest beings in the world, if not the second strongest second only to his father. However, D prefers his physical abilities, only using his magic in time of great need. Unlike most dhampirs, D is able to live as a "normal" human; however, he is marked by his unearthly beauty and exceptionally powerful aura, and thus rarely accepted by human settlements. In terms of weaknesses, he is randomly susceptible to sun-sickness, a severe type of sunstroke, about once every five years (far less than most dhampirs). D also recovers from it at a rate far greater than other dhampirs. Usually it takes several days to recover from sunlight syndrome, longer if the dhampir is exceedingly powerful, but D recovered in a few hours (around 1-6 hours approximately) despite being one of the strongest if not the strongest dhampir alive. Otherwise, D does not appear to suffer from other vampiric weaknesses usual to dhampirs, being able to physically restrain opponents with his aura and having godlike reflexes surpassing even those of Nobles.
External Links
Edit
Other Sources
Edit
Other Wikis
Edit
References
Edit
Community content is available under
CC-BY-SA
unless otherwise noted.