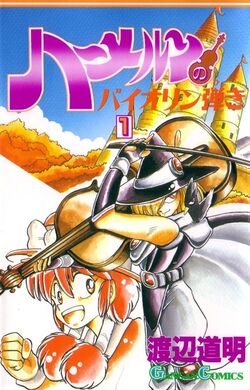 ---
Violinist of Hameln Wiki
Wiki founding
:
Error: Invalid time.
"Error: Invalid time." contains an extrinsic dash or other characters that are invalid for a date interpretation.
Page count
: 13
Last checked
: 2017/08/29
---
---
Violinist of Hameln (ハーメルンのバイオリン弾き, Hamerun no Baiorin Hiki) is a manga series by Michiaki Watanabe.
Plot
[
]
Manga
[
]
Pandora's Box led a cursed existence. Through the curiosity of a woman, evil was unleashed and very nearly covered the world in darkness. Miraculously, humanity managed to seal Maou Kestra back into the box, but only with immense sacrifices. Even without their lord, the demons are still a formidable force that has only grown stronger with time, locked in the abandoned capital of the North, Hameln. Fifteen years have passed since that fateful battle...
Meet Hamel, a travelling minstrel who is so self-centered that he'd sooner cook his guardian crow (and family friend), Oboe, than go hungry for even a minute. Welcome to the world of music and hilarious insanity that is the Violinist of Hameln. Watch as Hamel takes cheap shots at his opponents and bashes pigeons with his giant violin and turns them into dinner.
How WILL the world be saved from Maou Kestra with a hero such as this?
Anime
[
]
Trouble arises in Staccato one day. Demons show up and start to wreak havoc on the townspeople. The entire country seems to be suffering. The source of the problem is that the "barrier" which until now has kept the demons from crossing over to the human world, is weakening. The person who sustains it is losing her strength after holding it up for so many years. That person is Queen Horn of Sforzando. Hell King Bass is trying to break through the barrier and release their "supreme leader," Kestra (Orchestra). One whose power is unparalleled yet is trapped somewhere in the world of the humans.
External Links
[
]
Official
[
]
Other Sources
[
]
Other Wikis
[
]
References
[
]