WIXOSS (wikurosu, short for Wish Across) is a Japanese multimedia franchise produced as a collaboration between Takara Tomy, J.C.Staff, and Warner Entertainment Japan. The franchise revolves around the eponymous trading card game and follows girls known as Selectors who battle against each other in order to have their wishes granted. The trading card game by Takara Tomy launched in Japan in April 2014. An anime television series by J.C.Staff, titled selector infected WIXOSS, aired in Japan between April and June 2014, with a second season, selector spread WIXOSS, airing between October and December 2014. A compilation film, titled selector destructed WIXOSS, was released on February 13, 2016. A sequel anime series, titled Lostorage incited WIXOSS, began airing in October 2016. Several manga spin-offs, a novelization, and a smartphone app have also been produced.
Plot
[
]
WIXOSS is a popular trading card game in which players battle against each other with fighters known as LRIGs, using cards to support them. Certain LRIGs are able to communicate with their owners, and the girls chosen to wield them are known as "Selectors". Selectors are given the chance to have any wish granted by winning battles against other Selectors, but should they lose three times, their wish will be reversed into a curse instead.
The main series, selector infected WIXOSS, follows a girl named Ruko Kominato, who becomes a Selector after receiving an LRIG that she names Tama. As she and various other Selectors battle it out for the sake of their wish, Ruko finds herself drawn into the dark, sinister world of WIXOSS, discovering that, win or lose, there is always a price to pay.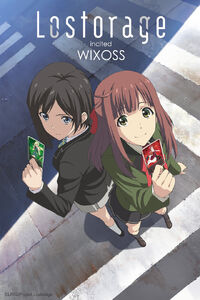 In Lostorage incited WIXOSS, Suzuko Homura, a girl who had just returned to her hometown, finds herself drawn into new kind of Selector battle alongside her LRIG Riru. In these battles, which now include male Selectors, players must wager coins representing their memories, and should they lose them all, they will lose all of their memories and effectively disappear.
External Links
[
]
Official
[
]
Other Sources
[
]
Other Wikis
[
]
References
[
]