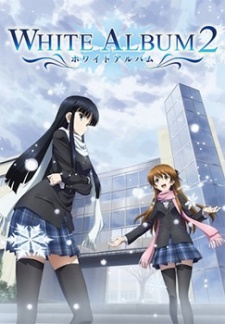 ---
White Album 2
Wiki founding
: December 8, 2013
Page count
: 38
Last checked
: June 16, 2017
---
White Album (ホワイトアルバム, Howaito Arubamu) is a Japanese adult visual novel developed by Leaf, and was originally released on May 1, 1998 for Microsoft Windows PCs as a CD-ROM. A PlayStation 3 version published by Aquaplus with several modification was released in 2010. A sequel to the original visual novel, titled White Album 2, was released in two parts in 2010 and 2011. The gameplay in White Album follows a linear plot line, which offers pre-determined scenarios and courses of interaction, and focuses on the appeal of the female main characters.
White Album has received several transitions to other media. A manga adaptation illustrated by Japanese illustrator Chako Abeno began serialization in the shōnen magazine Dengeki Daioh in August 2008. It was followed by an anime adaptation produced by Seven Arcs, which began broadcast in Japan on January 3, 2009. Characters from White Album are also featured as partner characters Aquapazza: Aquaplus Dream Match, a fighting game developed by Aquaplus with characters from various Leaf games.
White Album 2 (ホワイトアルバム2, Howaito Arubamu 2) is a duology of Japanese adult visual novels developed by the visual novel company Leaf for the Microsoft Windows PC, and is the sequel to Leaf's earlier visual novel, White Album. The first part of the series, named White Album 2: Introductory Chapter, was released on March 26, 2010. The second part in the series is named White Album 2: Closing Chapter and was released on December 22, 2011. An all-ages PlayStation 3 version combining both chapters published by Aquaplus was released in 2012 and ported for PlayStation Vita in 2013. The gameplay of White Album 2 follows a linear plot line which offers pre-determined scenarios with courses of interaction. A television series anime adaptation aired in Japan between October and December 2013.
Haruki Kitahara, the final member of the light music club that dissolved, plays his guitar by the window after school in preparation for the school festival. It was the one and only adventure of a good student who spent two diligent years on his studies. But when a flowing piano melody and a voice as a clear as bell harmonize with his guitar… He goes from being alone, to being two, then three in the light music club, as the semester he dreamed of, no, hoped for, began
External Links
Edit
Other Sources
Edit
Other Wikis
Edit
References
Edit
Community content is available under
CC-BY-SA
unless otherwise noted.