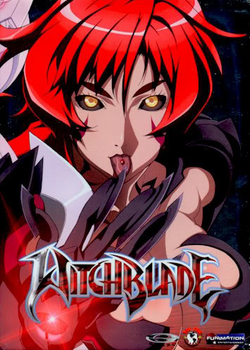 ---
Witchblade Wiki
Wiki founding
: May 26, 2009
Page count
: 55
Last checked
: July 24, 2017
---
---
Witchblade (ウィッチブレイド, Wicchibureido) is an anime series based on the American comic book by the same name. Instead of an adaptation of the original story, the producers decided to create an entire new setup, with all new characters. This co-production between Japanese studio Gonzo and American publisher Top Cow, who owns the rights for the Witchblade franchise, was licensed for release in the United States. The English dub premiered on the US cable network IFC in January 2008. The show is also available on many online shops or broadcasters, such as Xbox Live, PlayStation Network, Amazon, Netflix and Hulu.
The anime was directed by Yoshimitsu Ohashi, who directed Galaxy Angel and Galaxy Angel Z, and the characters were designed by Uno Makoto, the character designer for Stellvia and Love Hina.
Sought by the greed of men since the dawn of human kind, but only bestowed upon the women whose fate it forever scars...the Witchblade. Is it the righteous sword of God? Or hand of the Devil himself? Now a new bearer has been chosen. And she must discover the answers for herself. As she stands on the brink of destiny, she is forced to seek the balance between ecstasy and ruin.
—Anime prologue for each episode.
In this new approach to the Witchblade universe, the lead character (and blade wielder) is Masane Amaha, a kind-hearted woman who, despite her good intentions, is fairly clumsy and not good around the house. She lost her memory during "The Great Quake" that ravaged Tokyo and, curiously, Masane was found unscathed in the phenomenon's ground zero, holding a baby in her arms. Six years later, she returns to Tokyo with the child, whom she believes to be her daughter, intending to live a peaceful life. Unfortunately for the two, Masane becomes entangled in the struggle for power between a huge corporation and a government agency. She discovers that a mysterious jewel attached to her right wrist is actually the legendary artifact known as the Witchblade.
External Links
Edit
Other Sources
Edit
Other Wikis
Edit
References
Edit
Community content is available under
CC-BY-SA
unless otherwise noted.