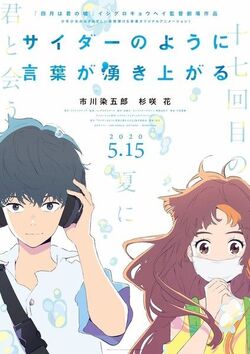 ---
Cider Kotoba Wiki
Wiki founding
: 2019/11/08
Page count
: 28
Last checked
: 2021/09/22
---
---
Genre:

Music , Romance , Slice of Life 

Media:
Words Bubble Up Like Soda Pop (サイダーのように言葉が湧き上がる Cider no Yō ni Kotoba ga Wakiagaru) is a Japanese anime film produced by record flying label Flying Dog. A boy who expresses his feelings through haiku, and a girl who hides her teeth behind a mask; it's Boy Meets Girl Story, where the two meet in an ordinary suburban shopping center and shorten the distance between them with words and music. The film was released on the 22d of July after facing delays from the COVID-19 public emergency. [1]
Plot
[
]
One summer, as youth runs free, Cherry, a boy whose communication skills leave much to be desire, and Smile, a girl who hides behind a mask, have that one a million chanced meeting.
Always wearing headphones, since he's pretty bad at communicating his feelings, Cherry resorts to putting it in Japanese haiku poems, while Smile, on the other hand, always wears a mask to conceal her rather large front teeth, which she has braces for. Even though she's insecure about her teeth, she's still a famous video star. Her latest video project is about seeking "cuteness."
After a slight mix-up eventually leaves them working together at Yodamari, going back and forth between their social accounts on the Curio live platform, these two start to fall in love with each other and eventually even set out to find Mr. Fujiyama's missing Yamazakura CD together. Although things are going great between the pair, things are not exactly as they seem as Cherry is supposed to be moving away in a month and still has not managed to tell Smile yet.
After finally finding the CD over at Mr. Fujiyama's record shop, Smile asks Cherry out to a festival and he implies a yes as he tells her to go back inside with him. The next day the news of Cherry's move is known by Smile and these two have a bitter parting.
In the car, now leaving the city Cherry sits thinking all hope is lost until his friends end up using graffiti to send him a message and he runs out of the car and into the festival to finally confess to Smile and literal sparks ignite due to the use of fireworks. Smile can be seen taken off her mask and smiling as a response. A silhouette of the two sharing a sweet kiss can be seen on the ending card.
External Links
[
]
Official
[
]
Other Sources
[
]
Other Wikis
[
]
References
[
]