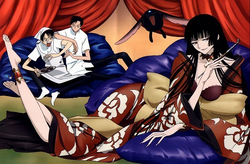 ---
Holic Wiki
Wiki founding
: January 10, 2009
Page count
: 419
Last checked
: October 27, 2020
---
×××Holic (×××ホリック, Horikku, in-universe officially typeset xxxHoLic) pronounced "holic" is a manga by Clamp which has also received a TV anime adaption. The storyline of xxxHolic crosses over with that of a number of other Clamp series, the most notable of which are Tsubasa: Reservoir Chronicle which was written in tandem with it, and CardCaptor Sakura, whose history it draws on at several points.
xxxHolic has been serialized in Kodansha's Young Magazine periodically from 2003 until March 2010 before moving to Bessatsu Shōnen Magazine in June 2010. The manga is published in volumes under the KC Deluxe label. It is currently published in the United States by Del Rey Manga and in the United Kingdom by Tanoshimi. The art style of the manga draws on the influence of ukiyo-e wood prints.
Kimihiro Watanuki is a high school student plagued by yōkai and ayakashi, spirits with a strong attraction to him. The spirits are invisible to others and encounters with them are extremely troublesome. When he stumbles into a shop that grants wishes, however, events in his life promise to become more unusual. The shop is owned by Yūko Ichihara, a mysterious witch of many names and esoteric renown. For a price, she offers to grant Watanuki's wish to be rid of the spirits. The price, according to Yūko, must be of equal value and so, as payment, he temporarily becomes Yūko's part-time employee. Watanuki's job consists of small errands dealing with the supernatural and household chores. His love interest, Himawari Kunogi, and "rival", Shizuka Dōmeki, occasionally join him in his work as per Yūko's request. The three become increasingly close despite Watanuki's annoyance with Dōmeki.
Community content is available under
CC-BY-SA
unless otherwise noted.