Yaoi (やおい) also known as Boys' Love, is a Japanese popular term for female-oriented fictional media that focus on homoerotic or homo romantic male relationships, usually created by female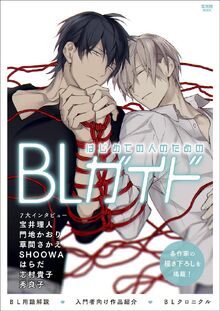 authors. Originally referring to a specific type of dōjinshi (self-published works) parody of mainstream anime and manga works, yaoi came to be used as a generic term for female-oriented manga, anime, dating sims, novels and dōjinshi featuring idealized homosexual male relationships. The main characters in yaoi usually conform to the formula of the seme (攻め, lit. "attacker") who pursues the uke (受け, lit. "receiver"). In Japan, the term has largely been replaced by the rubric Boys' Love (ボーイズラブ, Bōizu Rabu), which subsumes both parodies and original works, and commercial as well as dōjinshi works. Although the genre is called Boys' Love (commonly abbreviated as "BL"), the males featured are pubescent or older. Works featuring prepubescent boys are labeled shotacon, and seen as a distinct genre. Yaoi (as it continues to be known among English-speaking fans) has spread beyond Japan: both translated and original yaoi is now available in many countries and languages.
Yaoi began in the dōjinshi markets of Japan in the late 1970s/early 1980s as an outgrowth of shōnen-ai (少年愛) (also known as "Juné" or "tanbi"), but whereas shōnen-ai (both commercial and dōjinshi) were original works, yaoi were parodies of popular shōnen anime and manga, such as Captain Tsubasa and Saint Seiya.
BL creators and fans are careful to distinguish the genre from bara, including "gay manga", which are created by and for gay men. However, some male manga creators have produced BL works. Yuri is a wider blanket term than yaoi, because it refers to comics with lesbian relationships, regardless of the target audience, which may be (presumptively heterosexual) men, heterosexual women, or lesbian women. Yuri made by and for lesbians tends to resemble a distaff counterpart of bara, while men's yuri manga is more like yaoi manga, since both are targeted at the opposite sex and are not about realistic homosexual relationships.
See also
Edit
Riba - "Reversible" in LGBTQ culture and Yaoi fiction
Seme - "Top" in Yaoi fiction
Uke - "Bottom" in Yaoi fiction
Yuri - "Girls' Love"
External Links
Edit
Community content is available under
CC-BY-SA
unless otherwise noted.